Female suicide bomber targets police in central Tunis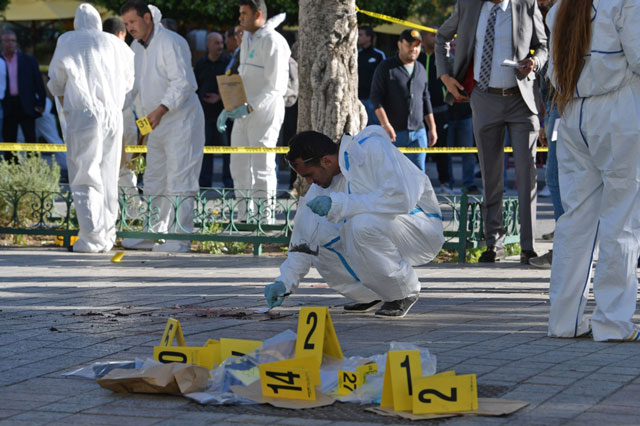 A woman blew herself up in the centre of the Tunisian capital Monday, wounding 20 people including 10 police officers in an explosion that breaks a period of calm after dozens died in militant attacks three years ago.
The 30-year-old woman set off the blast just before 2pm in the Tunisian capital's popular Habib Bourguiba avenue, according to Interior Ministry spokesman Sofiene Zaag.
The bomber is said to "come from Mahdia", a coastal town in the central-eastern part of the country 200 kilometres from Tunis, Sébastien Boussois, an international relations researcher, told FRANCE 24. A
ccording to Boussois, the attack was allegedly carried out "with a grenade".
Local radio said that ten police officers were among the injured, and ten civilians.
Apart from the bomber, it said, there have been no further reported deaths.
Police were cordoning off the area near the capital's landmark Municipal Theatre.
Ambulances could be heard rushing to the scene, while shops lowered their shutters as panic gripped passersby.
An AFP photographer saw the bomber's body, apparently mostly intact, lying on the ground under one of the neatly-trimmed box trees that line the avenue.
There was no immediate claim of responsibility.
The interior ministry, in a statement, identified the assailant as a 30-year-old woman with no known extremist affiliations, and there was no immediate claim of responsibility.
Shortly before the blast, a small group of demonstrators had held a protest in the avenue against the killing near Tunis last week of a teenager by a customs agent.
Follow Emirates 24|7 on Google News.