Florida school shooter wants to donate inheritance to survivors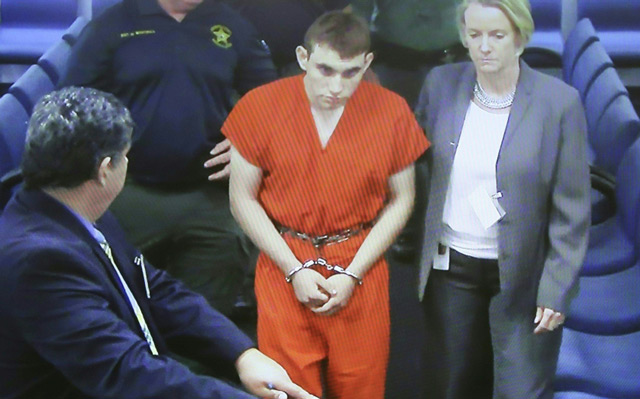 Parkland school shooter Nikolas Cruz wants to donate his inheritance -- which could run to hundreds of thousands of dollars or more - to the bereaved families and survivors of his attack, his lawyers said Wednesday.
Cruz walked into Marjory Stoneman Douglas High School in the south Florida city of Parkland on February 14 and opened fire at students and staff with an AR-15-style semi-automatic weapon.
He stands accused of 17 counts of premeditated murder and 17 counts of attempted murder. Prosecutors are seeking the death penalty.
At a court hearing on Wednesday, Broward County Judge Elizabeth Scherer sought to determine whether Cruz - who has so far been represented by public defenders - is able to pay for his own defense.
His lawyers said they have not yet been able to determine the value of the inheritance left to him following the death of his mother Lynda Cruz last November - though local reports quoting the family which took him in following his mother's death have said he could have a trust fund worth $800,000.
But his legal team suggested any wealth that may be discovered should go to Cruz's victims rather than expensive lawyers.
"Mr Cruz does not want those funds, whatever money that he is entitled to," said lawyer Melissa McNeill.
"He does not want that money. He would like that money donated to an organization that the victims' family believes would be able to facilitate healing in our community or an opportunity to educate our community about the issues that have ripened over the last four or five months," she added.
Cruz - who was present for the hearing in Fort Lauderdale, which is near Parkland - stared blankly at the floor, his hands and feet cuffed.
"Let it go to those who have been hurt, period," another member of his legal team, Howard Finkelstein, asked the judge.
Cruz's wealth currently consists of 24 Microsoft stocks worth about $2,200 from which he receives dividends, and he is entitled to $25,000 from his mother's life insurance, which he has not yet obtained.
In addition, his mother, who died from a respiratory illness, received an annuity of $3,333 in September to an account she shared with Nikolas. The source of these funds have not been revealed.
But his lawyers have yet to determine whether the installments are paid monthly or yearly and whether Cruz is entitled to it.
If it is monthly, the defendant could have access to "a million dollars," Finkelstein said.
But if it is annual, the amount would be insignificant for what "in this moment right now is the highest profile case of America" with costs expected to run into hundreds of thousands dollars, according to his lawyers, excluding civil suits.
Judge Scherer said she would decide on the matter of Cruz's indigence before April 27, when a hearing is scheduled to set the trial's schedule.
Cruz had told the couple who took him in following his mother's death he would inherit at least $800,000 from his parents, with most of the funds becoming available when he turned 22, according to local press.
The inheritance has not yet been executed, however, and it is unclear what Cruz and his brother Zachary really have.
Follow Emirates 24|7 on Google News.