France seeks terror suspect after Belgian alert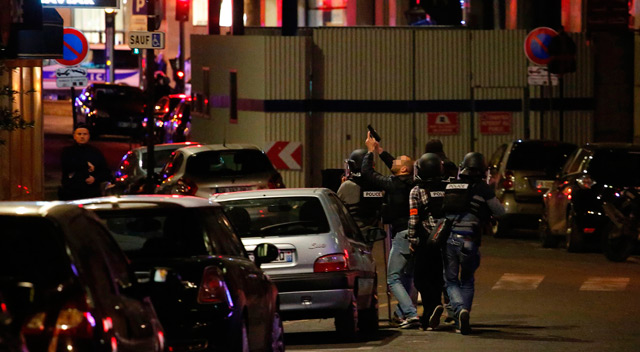 France has been alerted about a new suspect by the Belgian security services but it was not immediately clear if he was linked to the late-night shooting in Paris, a ministry official said Friday.
"It is too early to say" if the man signalled by Belgium was involved in the shooting which killed a policeman and wounded two others on the Champs-Elysees on Thursday, interior ministry spokesman Pierre-Henry Brandet told Europe 1.
One police officer killed, one wounded in Champs Elysees shooting
One police officer was killed and two others wounded Thursday in a shooting on Paris's Champs Elysees, just days ahead of France's presidential election, police said.
France's interior ministry said the attacker was also killed after opening fire on the officers in the early evening on the world-famous boulevard.
The bustling shopping street in the heart of the city, which is usually teeming with tourists and Parisians, was blocked by armed officers and metro stations in the area were closed.
Police said the circumstances of the shooting had "not been determined" but anti-terror prosecutors said they were investigating the attack.
Dozens of vehicles from the emergency services were sent to the area.
The shooting comes just two days after the arrest of two men in southern Marseille with weapons and explosives who were suspected of preparing an attack to disrupt the first-round of the presidential election on Sunday.
France is in a state of emergency and at its highest possible level of alert since a string of terror attacks that began in 2015, which have killed over 230 people.
The election has long been seen as a potential target.
Major attacks in France targeted the Charlie Hebdo magazine in January 2015, sites around Paris including the Bataclan concert hall in November the same year and families at a fireworks display in Nice in July last year.
In between, there have been a series of smaller attacks, often targeting security forces.
Thousands of troops and armed police have been deployed to guard tourist hotspots such as the Champs Elysees or other potential targets including government buildings and religious sites.
Up until now, polls showed voters more concerned about unemployment and their spending power than terrorism or security, though analysts warned this would change in the event of further bloodshed.
In February, a man armed with a machete in each hand attacked soldiers on patrol at Paris's Louvre Museum. The attacker, a 29-year-old Egyptian, was seriously injured.
And in March, A 39-year-old man was killed at Paris's Orly airport after attacking a soldier.
Far-right leader Marine Le Pen welcomed security being at the heart of the campaign on Thursday as she took part in a prime-time television debate alongside rival candidates.
For weeks, centrist former banker Emmanuel Macron and the National Front's (FN) Le Pen have been out in front but opinion polls now show there is a chance that any of the four leading candidates could reach the second-round runoff on May 7.
"We are suffering the consequences of a laxity that has continued for years," she said, alluding to security and the terror threat.
Though Le Pen and Macron have become frontrunners, scandal-plagued conservative Francois Fillon and far-left firebrand Jean-Luc Melenchon have closed the gap substantially in the last two weeks.
Follow Emirates 24|7 on Google News.