Group home pays $450K to family of boy who recorded abuse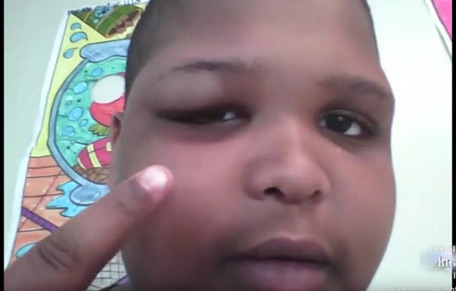 A group home in upstate New York will pay $450,000 to the family of a developmentally disabled boy who used his PlayStation to record caretakers threatening his life.
The boy, Ralph White, was 12 when he allegedly was physically and psychologically abused at the privately run Northeast Parent and Child Society home in Schenectady in 2014. In one of the videos he recorded for his mother, White points to his swollen right eye and says "Mom, this is what it looks like."
A staff member can then be heard in the background saying "I'm gonna kill a kid and you might be the one I kill. … You want me to f—— hurt you boy?"
State investigators determined that staff members mistreated the boy, but no one was prosecuted. Ralph's case was detailed as part of a 2015 Associated Press examination that found that less than 2.5 percent of the thousands of substantiated abuse and neglect complaints against caretakers in New York group homes for the disabled, addicted and mentally ill ever result in criminal prosecutions.
The family's lawsuit against the group home alleged staffers repeatedly abused Ralph and got so angry after his video aired on a local television station that they choked him with his PlayStation's electrical cord.
His mother, America Lebron White, told the AP on Tuesday that the now 15-year-old boy is back at home with her but still deals with the physical and psychological injuries he suffered while at the group facility. Those incidents, she said, caused him to "shut down."
"I wish he was the same as before they strangled him," she said. "He was in a catatonic state. He wouldn't speak. That's what they did to my son."
She said the family will use money from the settlement to provide care for Ralph.
The employees involved in the incidents were fired, according to a statement from William Gettman, the CEO of the group home's owner, Northern Rivers Family of Services.
"Every child deserves to be treated with respect, compassion, and care," he said. "From the beginning, we have taken this process as an opportunity to analyze and improve our procedures and provide enhanced training where needed to fulfill our responsibility to those in our care."
America Lebron White blames investigators for not aggressively pursuing the case.
Investigators from the state's Justice Center for the Protection of People with Special Needs, created to investigate abuse and neglect in state-regulated institutions, substantiated allegations that the boy had been physically and psychologically abused. The agency concluded the boy had been restrained with excessive force including "elbowing and/or striking him on his face, which resulted in a swollen and/or bruised eye."
The center didn't conclude the boy was throttled with the electrical cord, but did find that a staff member improperly restrained him, including putting him "in a one-person prone restraint while he had a cord around his neck."
Local prosecutors twice sought a warrant in the case, but a judge declined to sign either one.
In a statement, the Justice Center said it takes "every allegation of abuse or neglect seriously. The agency conducted an exhaustive investigation and substantiated the claims of abuse and neglect. The provider terminated the employees after learning the findings of our investigation."
Follow Emirates 24|7 on Google News.