Homes of Indian ex-finance minister, son searched in criminal probe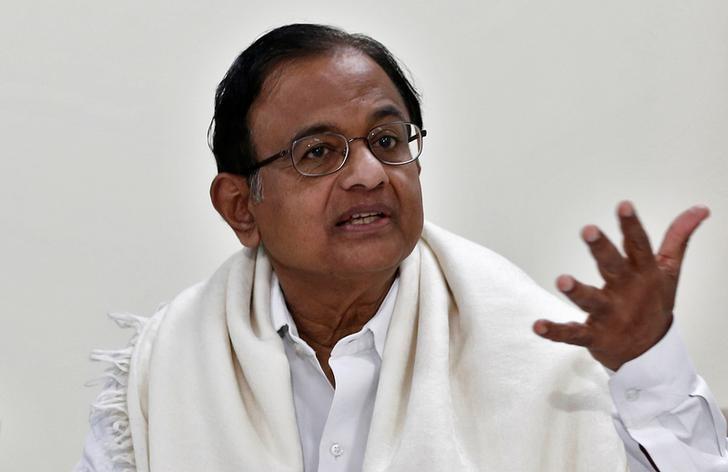 India's Central Bureau of Investigation (CBI) searched the homes of former finance minister P. Chidambaram and his son on Tuesday, in a probe into suspected criminal misconduct related to approvals of investment deals.
The dawn raids marked an escalation in pressure by federal investigators against Chidambaram, a senior leader of the opposition Congress party who has been a vocal critic of Prime Minister Narendra Modi.
The CBI, India's main federal crime-fighting agency, conducted searches at locations in the cities of Mumbai, Delhi, Gurugram and Chennai, including the residence of Chidambaram's son Karti there.
The raids were "in connection with criminal misconduct" in granting approval for foreign investment deals, a CBI spokesman said without giving further details.
Chidambaram denied wrongdoing. He said all investment approvals granted during his tenure were above board.
"The government, using the CBI and other agencies, is targeting my son and his friends," he said in a statement.
"The government's aim is to silence my voice and stop me from writing," said Chidambaram, who writes a weekly column for the Indian Express. "All I will say is, I shall continue to speak and write."
A veteran lawmaker of Modi's right-wing ruling party, which defeated the Congress by a landslide in 2014, said the raids were linked to litigation he has brought over the approval of a 2006 telecoms deal he alleges was corrupt.
"The raids have to take place to get documents and incriminating evidence which they have kept," Subramanian Swamy told television news agency ANI, an affiliate of Reuters.
"The whole country will come to know that this is the most corrupt party in the world," he said.
REPEATED ATTACKS
Chidambaram, 71, served twice as finance minister in the Congress-led coalition that ran India for a decade - from 2004-08 and then from 2012 until the party's election defeat at the hands of Modi's Bharatiya Janata Party (BJP) in May 2014.
He has been the target of repeated attacks by Swamy, who has also brought a case against Congress party leader Sonia Gandhi and her son Rahul, accusing them of criminal misappropriation of funds from a party newspaper.
Both deny any wrongdoing.
In 2006, the Foreign Investment Promotion Board (FIPB) approved the acquisition of 100 percent of Indian telecom firm Aircel by Malaysia's Maxis, a deal that has spawned a series of legal battles.
BJP spokesman GVL Narasimha Rao alleged that approval for the Aircel-Maxi transaction was awarded by the FIPB - a government panel - in return for favours.
"This is not a political case," Rao told Republic TV. "From whatever facts that have emerged so far this is a case of money laundering."
Chidambaram said in his statement that neither he nor FIPB officials were suspected of wrongdoing.
"There is no allegation against any of them. There is no allegation against me," he said.
"Every case was processed according to law and approval was granted or refused in accordance with the recommendations of the FIPB," he said.
Follow Emirates 24|7 on Google News.