Macau billionaire's aide pleads guilty in U.N. bribe case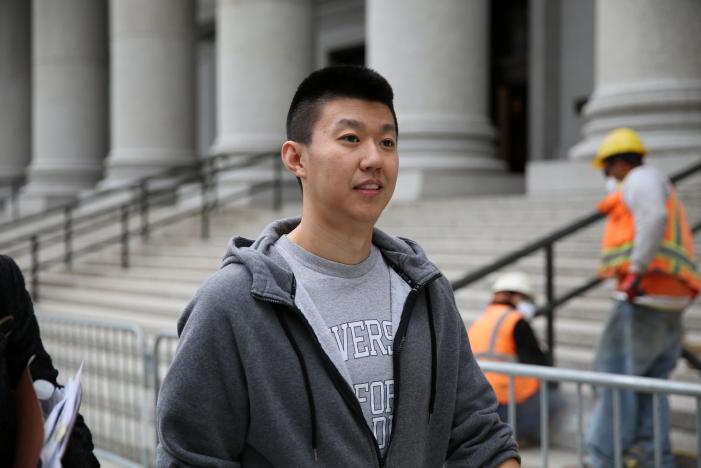 The assistant to a billionaire real estate developer from Macau accused of engaging in a scheme to pay bribes to a former United Nations General Assembly president pleaded guilty to a single tax charge on Friday.
Jeff Yin, who was arrested along with billionaire Ng Lap Seng in 2015, entered the plea in Manhattan federal court following two weeks of negotiations that led to an agreement in which he did not have to admit to bribing anyone.
Instead, Yin, 31, pleaded guilty to a single charge of conspiring to defraud the United States by trying to prevent the Internal Revenue Service from collecting taxes on a $54,000 salary he earned from a U.N.-focused media outfit prosecutors said Ng founded.
Specifically, Yin admitted he tried to avoid paying taxes by having South-South News pay him in the form cash and checks made out to "petty cash."
"Between 2013 and 2015, I agreed with others to not pay taxes to the IRS," he said in court.
Yin's plea deal contained no agreement to cooperate with prosecutors in the case against Ng, the founder of Macau-based real estate developer Sun Kian Ip Group. Ng, who has denied wrongdoing, is scheduled to face trial on May 30.
As part of the plea deal, Yin, a U.S. citizen who currently lives in California, agreed not to appeal any prison sentence of 2-1/2 years or less. His sentencing is scheduled for July 21.
Ng, who was once linked to a campaign fundraising investigation during former U.S. President Bill Clinton's administration, and Yin were among seven individuals charged since October 2015 in the U.N.-related probe.
Prosecutors had accused Ng and Yin of paying more than $500,000 in bribes to John Ashe, a former U.N. ambassador from Antigua and Barbuda who served as General Assembly president from 2013 to 2014. Ashe died in June awaiting trial.
An indictment said Ng and Yin also paid bribes to Francis Lorenzo, a then-deputy U.N. ambassador from the Dominican Republic who pleaded guilty in March 2016 to bribery and money laundering charges as part of a deal to cooperate in the probe.
The main goal of the bribes, according to the indictment, was to have both ambassadors take steps to help obtain U.N. support for a multibillion-dollar conference center in Macau that Sun Kian Ip Group would develop.
Follow Emirates 24|7 on Google News.