Man arrested in strangling of NYC jogger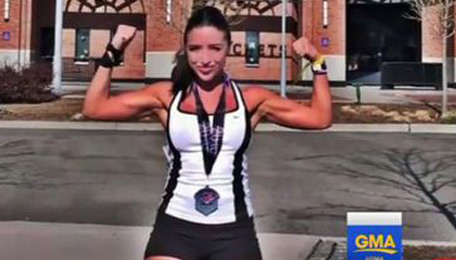 DNA evidence, some of it matching what was found beneath the victim's fingernails, led investigators to make an arrest in last summer's strangling of a woman who encountered her killer while on an evening run, police said Sunday.
Chanel Lewis, 20, of Brooklyn, was held without bail after his arraignment on murder charges in the Aug. 2 slaying of 30-year-old Karina Vetrano, whose body was found amid the weeds in a marshy park not far from her Queens home.
"This defendant admitted to attacking the victim, admitted to beating her, to strangling her and dragging her body in the weeds," Queens assistant district attorney Michael Curtis said.
Efforts to contact the Legal Aid attorneys for Lewis were not immediately successful. If convicted, he faces up to 25 years to life in prison.
The closely watched case caused fear among women who run alone and baffled investigators, who for months were unable to find anyone who matched the probable suspect's DNA that was found under the victim's fingernails as she fought back. The DNA also was found on her neck and phone.
New York Police Department Chief of Detectives Robert Boyce said the break came after police went back through 911 calls and found one reporting a suspicious person in the area near the attack. Investigators interviewed Lewis on Thursday and obtained a DNA sample from him, which Boyce said was tested and linked to DNA found at the scene and on the victim.
"Karina helped us identify this person," Boyce said. "She had the DNA under her nails. She had touch DNA on her back and there was more DNA on her cellphone. So three incidents. That's how we were able to bring this profile up. And that's how we made the link."
The detective said that after Lewis was arrested at the home he shares with his mother on Saturday night, he gave incriminating statements on "each step of the assault." Asked for a more detailed description of Lewis, Boyce declined to comment on the suspect's mental state or social behavior.
Boyce said the encounter that led to Vetrano's death apparently was a chance one, and authorities didn't believe she and Lewis knew each other. Lewis has no prior arrest record, police said.
Asked how they felt about the arrest and the randomness of the crime, the victim's parents, Philip and Cathy Vetrano, reacted with numbness and anger.
"It hasn't really sunk in," Philip said outside his home. "She was unlucky that day."
"We've been in a state of shock for six months and we really don't know what we feel right now," said Cathy, who called Lewis a "savage" and said she was glad he was off the streets.
"The demon must get his justice and we will see to it."
Follow Emirates 24|7 on Google News.