Mother of 3 killed by gunman at pool party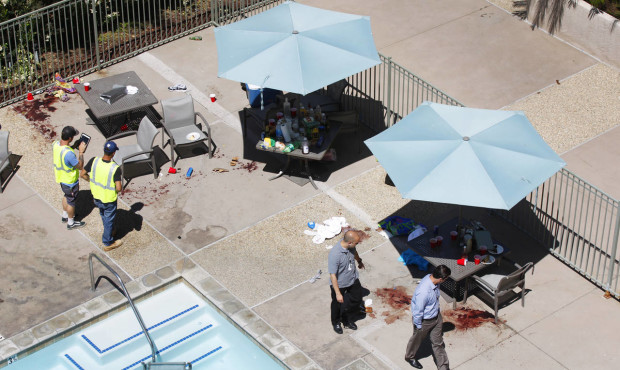 A 35-year-old mother of three was the lone person killed by a gunman who shot seven people at a pool birthday bash in San Diego over the weekend.
Childhood friend Vincent Howard says he will miss the infectious smile of Monique Clark. He says Clark was devoted to her daughters, ages 2 to 13. She also volunteered at food drives to help the homeless.
Entertainer Nick Cannon, also a childhood friend, tweeted Monday "my heart hurts with great sadness."
Clark's family could not be reached for comment. Her mother, Michelle Fuget, wrote on GoFundMe that her daughter was beautiful, funny and feisty.
Police say the victims were randomly targetd by 49-year-old Peter Selis who was angry over a recent breakup.
Officers killed Selis in a shootout Sunday.
Gunman calls ex-girlfriend as he unleashed terror by a pool
The pool party was in full swing when a lone man reclining in a lounge chair with a blank expression pulled a gun from his waistband and began shooting.
As bodies fell on the pool deck and people ran for their lives, the gunman despondent over a recent breakup dialed his ex-girlfriend so she could listen as he continued firing at strangers.
Although Peter Selis was white and all but one of the victims were black and Latino, Chief Shelley Zimmerman said Monday there was "zero indication" race was a motive.
Instead, the attack that killed one woman and injured six other partygoers seemed to be driven by a recent split-up with the woman he called after he shot his first two victims.
Follow Emirates 24|7 on Google News.