Rare Sumatran tiger caught in animal trap dies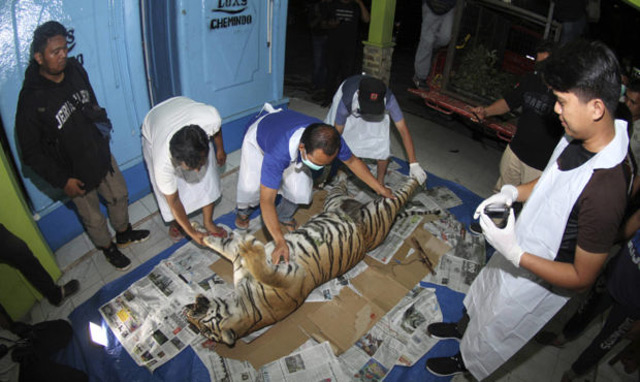 A critically endangered Sumatran tiger pregnant with two cubs was found dead in the Indonesian province of Riau after being caught in a trap, authorities said Thursday, in the latest setback to a species whose numbers are estimated to have dwindled to about 400.
The head of the local conservation agency, Suharyono, said the tiger, aged about 4 years, was reportedly trapped earlier this week, escaped and was found dead on Wednesday in a ravine about 150 meters (500 feet) from the trap with part of the snare wrapped around its body.
It was pregnant with male and female cubs, said Suharyono, who uses a single name.
He said the snare rope had ruptured its kidney.
"We will cooperate with law enforcement agencies for an investigation and to launch an operation against wild hunters and traps," Suharyono said.
He said a villager who admitted to setting traps was detained for interrogation.
Sumatran tigers, the most critically endangered tiger subspecies, are under increasing pressure as their jungle habitat shrinks.
Two people have died in tiger attacks on Sumatra this year and villagers slaughtered a tiger they reportedly believed was a supernatural creature.
Follow Emirates 24|7 on Google News.