Romania: Bear shot dead after it kills goat, enters school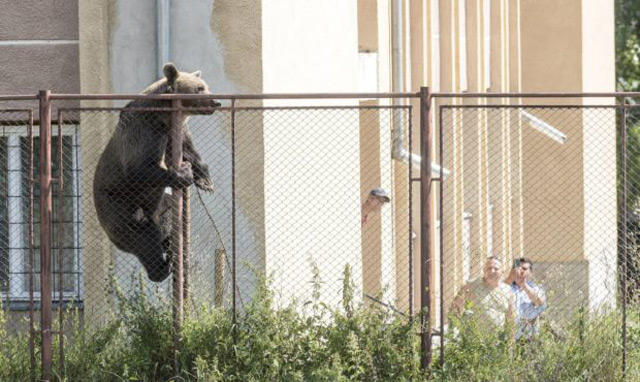 Romanian hunting officials have shot dead a brown bear after it rampaged through an empty high school and scared residents in Miercurea Ciuc, a town in central Romania.
Local police officers said the bear entered a resident's yard early Tuesday, snatched and killed a goat, then scaled a high fence to enter the school, which was deserted because of the summer vacation.
"The bear killed and ate a goat and had several naps; we couldn't get rid of him," local government official Sandor Petres told the Mediafax news agency.
After several hours, officials maneuvered the bear into a secluded area and shot it. Petres said authorities were unable to locate someone to tranquilize the bear.
The incident occurred a day after two zookeepers were mauled by a bear in the nearby city of Brasov after they had entered a cage at a zoo occupied by two female bears and a cub at a zoo.
Local authorities said the keepers had not respected safety procedures and should have evacuated the animals before entering the cage.
There are believed to be more than 6,000 brown bears in Romania.
Follow Emirates 24|7 on Google News.