Rome court urged to jail Mafia Capitale boss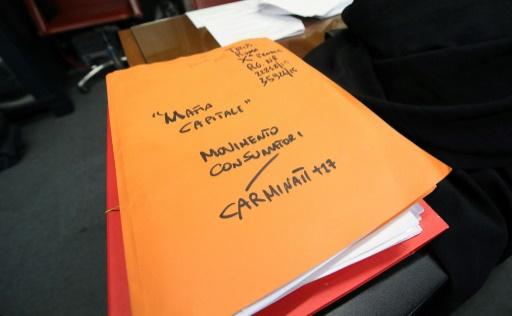 Prosecutors on Thursday requested a 28-year prison term for a one-eyed, far-right extremist who was the alleged kingpin of a mafia gang that preyed on Rome's City Hall.
The request came during summing up for the prosecution in the final stages of what has been an 18-month trial held in a high-security prison.
Known as "Mafia Capitale", the case has exposed how organised crime infiltrated Rome's corridors of power and, for years, used extortion, fraud and inside accomplices to steal millions of euros destined for public services.
"They chopped up the administration like slices of cheese," one of the prosecutors, Paolo Ielo, told the court.
The scandal has been a major factor in leaving the city so cash-strapped it can barely afford to repair its buses when they break down, fill potholes in its streets or prevent trees from falling over for lack of maintenance.
Prosecutors said Massimo Carminati, 58, a convicted gangster with a history of involvement with violent far-right groups, and 45 others should serve a combined total of 515 years behind bars for a variety of corruption-related crimes.
Carminati and 17 others are accused of having belonged to a mafia-style network, making them liable for much tougher sentences if the judges agree.
Among the accused are local politicians, businessmen and employees of the city, including a former boss at the city's rubbish collection agency AMA, for whom a 21-year sentence was requested.
For Salvatore Buzzi, Carminati's alleged right-hand man, prosecutors asked for a sentence of 26 years and three months.
Earlier in the trial, the court heard police wire-taps in which Buzzi, a convicted murderer, was heard to boast of skimming cash from funds allocated to feed and house asylum seekers.
The prosecution alleged that Buzzi was the key intermediary linking Rome's political class to a murky underworld in which Carminati has long been a key player.
Eye lost in shootout
Among the many recordings of incriminating conversations played in court was one in which Carminati seems to describe himself and his associates as connecting the underworld and regular society.
"There are those living up above and the dead down below, we are in between, in this middle world where everyone meets," he is heard as saying.
Both men have been in custody since the scandal was exposed in December 2014 and authorities judged them too dangerous for the trial to be held in open court.
Many observers questioned how they had been able to get so close to Rome's centre of power in light of their previous convictions.
In 1983, Buzzi received a 30-year prison sentence for the murder of an accomplice in a forged cheques racket.
He served only six years after pursuing his education and successfully portraying himself as a reformed character.
Carminati was given a 10-year prison term in 1998 for membership of the Banda della Magliana, a criminal crew which ruled Rome's underworld in the 1970s and 1980s.
Prosecutors say the gang reinvented itself as the core network behind Mafia Capitale.
Carminati is also a former member of the Nuclei Armati Rivoluzionari (Armed Revolutionary Nuclei), a far-right group that was involved in the 1980 bombing of Bologna railway station which left 85 people dead. He lost his left eye in a 1981 shoot-out with police.
Civil parties to the case will present their claim for damages on May 2-3 before the trial is concluded with the defence's summing up.
Follow Emirates 24|7 on Google News.