Shooting at Florida school as students stage walkout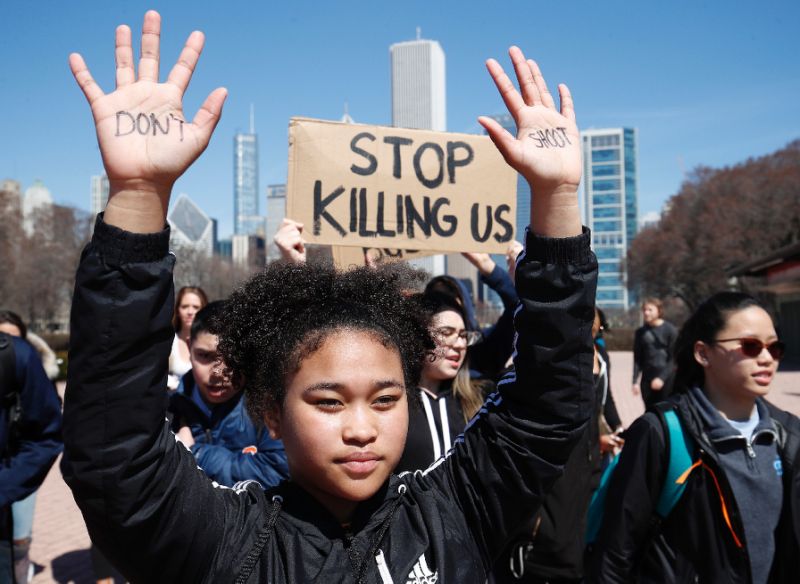 Students demanding tougher gun laws walked out of classes across the United States on Friday, the 19th anniversary of the shooting at Columbine High School which left 13 people dead.
As thousands of teenagers held rallies from coast to coast, a shooting at a high school in Ocala, Florida, left one student wounded.
The Ocala Star Banner newspaper said a 19-year-old former student at Forest High School fired a blast from a shotgun into a locked classroom door, wounding a 17-year-old student in the ankle.
The Marion County Sheriff's Office said the suspect, who was not identified, was quickly arrested.
Around the country, students marked the anniversary of the April 20, 1999 shooting at Columbine in Colorado, a massacre seen as the harbinger of an era of school violence.
"I feel like things have gotten worse these last few years," said Emma Corcoran, a 15-year-old from Bethesda-Chevy Chase High School in Maryland, at a rally in Washington. "Change needs to happen."
The protests have been galvanized by students at Marjory Stoneman Douglas High School in Parkland, Florida, where 14 teens and three adult staff members were shot dead on February 14 by a troubled former classmate armed with an AR-15-style automatic weapon.
The Parkland students have spearheaded a grassroots campaign for gun control which included another school walkout on March 14 and nationwide rallies by hundreds of thousands of Americans on March 24.
"So proud of the #NationalSchoolWalkout and all of the students around the country who are standing up for positive change and demanding what we deserve," tweeted Cameron Kasky, a Parkland student leader.
Follow Emirates 24|7 on Google News.