'Sticky Fingers' busts US retail theft ring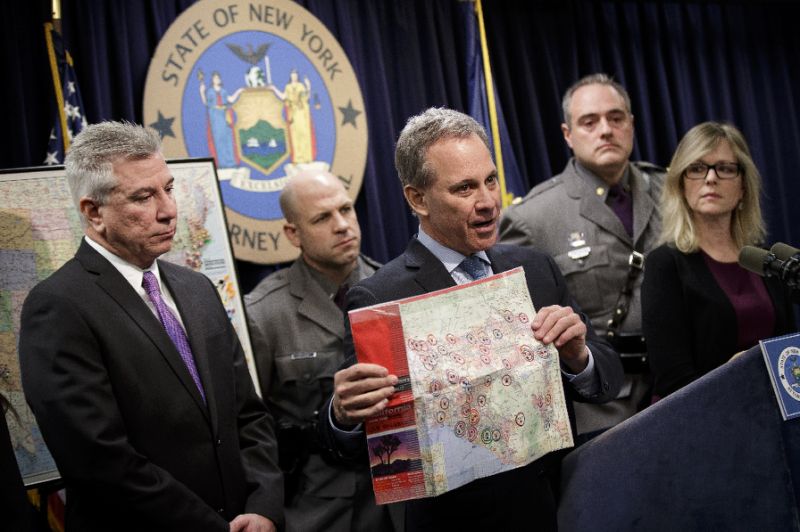 It was a criminal enterprise with military-like precision run by a "general" - packs of thieves stealing merchandise worth up to $45,000 on a single mission, stuffing it into custom-made vests and disabling store security.
New York prosecutors on Wednesday announced the indictment of 12 people accused of stealing more than $12 million worth of merchandise across 28 US states and transforming idle shoplifting into an organized criminal enterprise.
A 10-month law enforcement operation code-named "Sticky Fingers" netted more than $7.7 million from defendants' homes and bank accounts, and more than $1 million in stolen merchandise, officials said.
While electronic goods were most favored, they also ran a sideline in expensive flea collars pinched from pet stores, which like other ill gotten gains were re-sold online on sites such as Amazon and eBay, prosecutors said.
New York state attorney general Eric Schneiderman called it "one of the largest-ever busts of a retail theft ring" - a racket that he said was on the rise in the United States.
Organized crime costs retailers up to $30 billion a year, he said.
Twelve alleged gang members have been slapped with a 41-count indictment that could land them in jail from eight to 25 years.
The alleged Manhattan kingpin, Richard Rimbaugh, is being held on $500,000 bail while alleged second-in-command George Athanasatos, nicknamed "Field Marshall" comes from Brooklyn, Schneiderman said.
Rimbaugh, known as the "General", allegedly paid crews 30 to 50 percent of the goods' retail value, then sold them through an illegitimate business operated out of his Manhattan apartment.
Athanasatos allegedly equipped the crews with custom-made vests known as "bazookas" in which they stuffed their contraband.
The crews are accused of getting around the country on "missions," charging plane tickets, cars and hotels to their handlers as in a normal business.
Staples and BestBuy were two of the stores most often targeted.
When leaving, they allegedly used "kryptonite" devices to deactivate security alarms and short-wave radios to eavesdrop on store security.
Crew members, who each had designated roles - "Captain," "Lieutenant" or "Sergeant" - could steal $45,000 on a single mission and targeted high-value products that could be resold, officials said.
While police searched Rimbaugh's Manhattan apartment, UPS turned up to deliver another five boxes of stolen merchandise, Schneiderman said.
Follow Emirates 24|7 on Google News.