US allows 'El Chapo' to write to wife from behind bars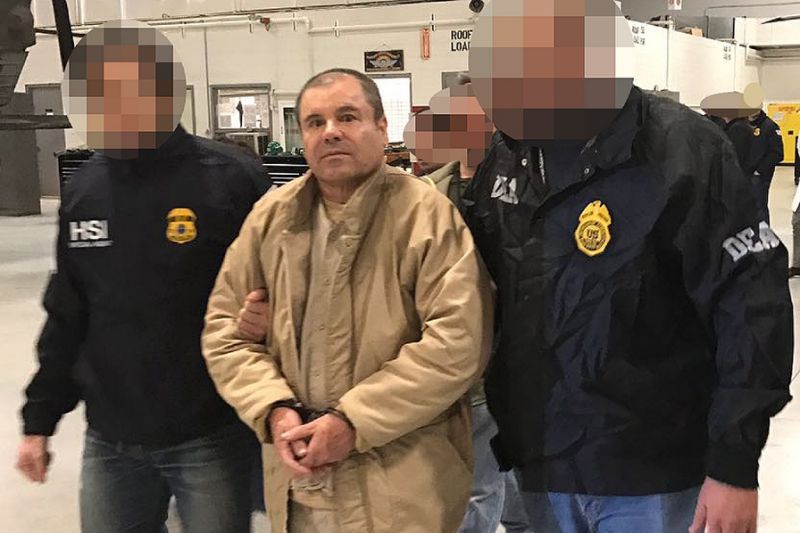 A US judge on Thursday relaxed slightly the stringent custody conditions of Mexican drug lord Joaquin "El Chapo" Guzman, allowing him to correspond with his beauty queen wife.
The 60-year-old kingpin, accused of running one of the world's biggest drug empires, has been held in solitary confinement since being extradited to New York on January 19.
Federal Judge Brian Cogan ruled that Guzman, one of the world's most notorious criminals, could send written messages to his wife - provided they were pre-screened by federal agencies - but denied him family visits and phone calls.
Guzman's wife Emma Coronel, 27, is the mother of his twins.
The 18-page ruling similarly allowed his defense team's pre-cleared investigator to visit without an attorney present, following complaints from Guzman's lawyers about the conditions of his pre-trial detention.
But Cogan refused a request for Amnesty International to visit on the grounds that there was "absolutely no reason."
The London-based rights groups in March asked to speak with Guzman, expressing concern that the conditions of his detention "appear to be unnecessarily harsh and to breach international standards for human treatment."
Cogan also flatly denied a request by Guzman - who twice escaped from prisons in Mexico - to have his "special administrative measures" lifted in full or for him to be moved out of solitary confinement.
"The conditions are reasonably necessary to ensure that defendant cannot coordinate any escape from prison, direct any violence against cooperators, or manage any aspect of the Sinaloa Cartel's enterprise," he wrote.
He went on to write that Guzman's second jail break in Mexico "was accomplished under 24-hour video surveillance in solitary confinement."
The decision came one day before Guzman is due to appear in court for another pre-trial hearing. His wife is also expected to attend.
His lawyer Michelle Gelernt welcomed permission for her client to swap letters with his wife as "small comfort" but said it was "devastating news for both of them" to be denied visits and calls.
"We continue to believe that the conditions of Mr Guzman's detention, including being held in solitary confinement, are untenable," she said in a statement.
"We will continue to fight for his right to fair and humane treatment."
Cogan has denied Guzman visits from anyone other than his lawyers or permission to communicate with potential witnesses.
Cogan's ruling revealed that Guzman is visited by his lawyers almost every day at the Metropolitan Correctional Center in Manhattan, for an average of four to five hours in a windowed visitor room.
The judge ordered US prosecutors to "cease any communications with MCC staff," in which prison employees report back on the content of those meetings.
In March, the defense complained Guzman's health was deteriorating in custody, and claimed that he experienced "auditory hallucinations."
Guzman pleaded not guilty to firearms, drug trafficking and conspiracy charges. If convicted, he is likely to spend the rest of his life in a maximum security US prison.
Follow Emirates 24|7 on Google News.