Victims of BBC sex offender Savile were laughed at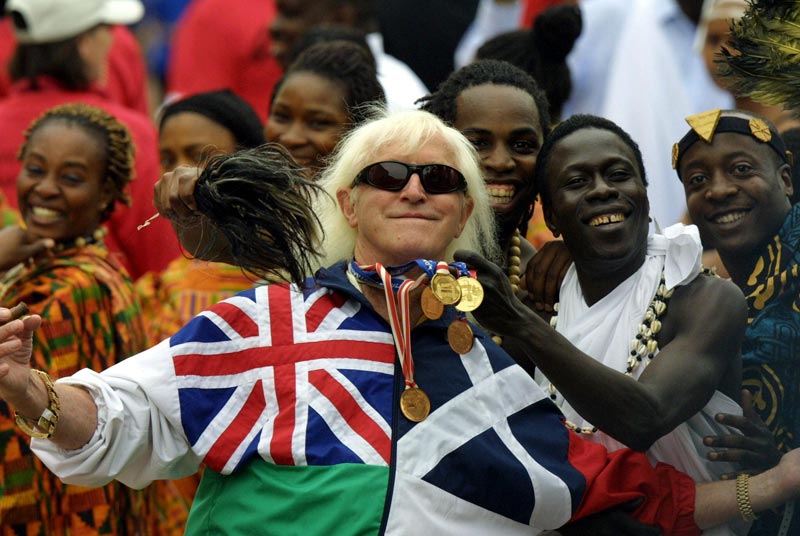 Victims of Jimmy Savile, the former BBC TV presenter who after his death was unmasked as one of Britain's most prolific sex offenders, said they were ignored or laughed at when they tried to report that he had abused them, a report said on Monday.

Last year, police said Savile, one of the country's best-known celebrities in the 1970s and 1980s, had sexually abused hundreds of victims, mainly youngsters, at hospitals and at BBC premises over six decades until his death aged 84 in 2011.

A report by the charity, the National Society for the Prevention of Cruelty to Children (NSPCC), found many of those Savile had targeted said the authorities had dismissed their claims at the time of the abuse while others stayed silent because they feared they would not be believed.
The findings were released as lawyers representing 147 of his victims began action at London's High Court on Monday to win compensation from charitable trust set up in Savile's name after his death.
"They (the victims) were ignored, dismissed, not believed, laughed at and astonishingly told in some cases they should feel lucky he had paid them attention," said Peter Watt, the NPSCC's director of national services.
"Half a century on, the world finally discovered just how dreadful his crimes were - something these men and women had known all that time but felt powerless to do anything about."

Detectives say Savile, a one-time professional wrestler who became famous as a pioneering DJ in the 1960s, used his fame as a TV presenter and dedicated charity fundraiser to gain access to children.

Numerous reports have since been commissioned into how the eccentric Savile, famed for his long blonde hair, and penchant for garish outfits and flashy jewellery, was able to get away with his crimes.

Last March a report by Her Majesty's Inspectorate of Constabulary (HMIC), the body which monitors the police, said it was seriously concerned about mistakes made by police forces, while an inquiry in 2012 cleared BBC bosses of covering up allegations against Savile but said it had missed warnings.

A lengthier analysis into BBC failings is due later this year.
Monday's NSPCC report, commissioned by the HMIC, was based on revelations from 26 victims, aged between eight and 26 when they were assaulted, who detailed the lasting impact of their abuse, with some turning to drink and drugs, and others disclosing mental health illnesses or contemplating suicide.

Other ageing celebrities are now facing criminal action from a police investigation launched in the wake of the Savile revelations.
On Monday, prosecutors said one of them, Dave Lee Travis, a high-profile radio DJ from the 1970s and 1980s, would face a re-trial on two sex abuse charges.

Travis, who counted Myanmar's Aung San Suu Kyi among his fans in his heyday, was cleared of 12 other offences earlier this month but a jury had been unable to reach a verdict on one charge of indecent assault and one of sexual assault.
Follow Emirates 24|7 on Google News.