Was gold dispute behind gruesome French family murder?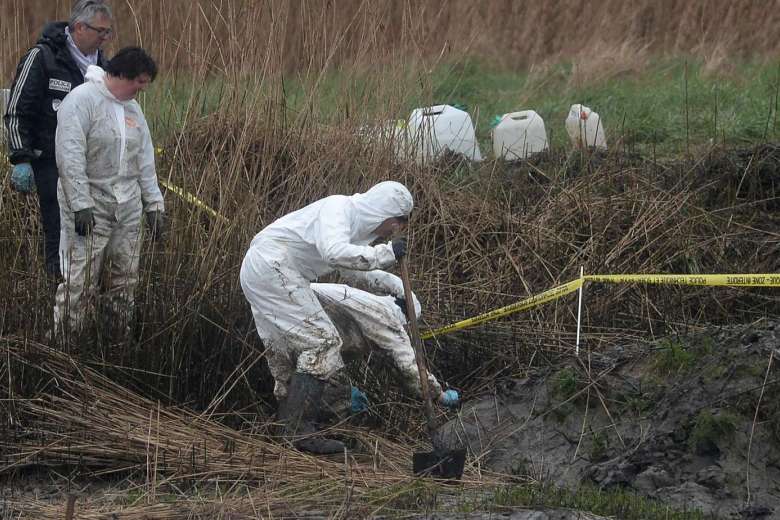 Investigators Thursday voiced caution over claims that a dispute over family gold led to the gruesome murder of a couple and their two children in western France.
So far "there is no evidence" to support claims by the confessed killer and his 76-year-old mother that Pascal Troadec had helped himself to a trove of gold that his father had found while renovating an apartment, "robbing" his sister Lydie of her share.
"It's only an assertion for now," a source close to the probe said.
The victim's mother told the daily Le Parisien that her late husband found a cache of gold coins and ingots - of an unspecified value - in 2006 in an apartment in the northwestern port of Brest.
He took the gold, "perhaps stolen from the Bank of France" during World War II, and hid it in the couple's garage, said the woman, who declined to give her first name.
It was the year after her husband died in 2009 that she said Troadec took the gold while she was in hospital, adding that he had "robbed his sister" Lydie.
Troadec later told the family he had invested the gold in Monaco and Andorra, tauntingly adding that they "couldn't touch it", his mother said.
Soon afterwards, Troadec and his wife Brigitte - whom Lydie's partner Hubert Caouissin has admitted killing along with their children Charlotte and Sebastien - began flaunting their new lifestyle, sending postcards from their holiday travels.
Eventually it was too much for Caouissin, who later told investigators of his anger over the gold, according to both the confessed killer and his mother.
But the lawyer of Brigitte Troadec's family, Cecile de Oliveira, charged that the gold coins and ingots were a figment of Caouissin's imagination and that he had begun "harassing" the Troadecs in 2014.
"Pascal Troadec went to the police to complain of being falsely and repeatedly accused over this story of gold ingots that comes out of Hubert Caouissin's imagination," she told AFP.
And Caouissin's mother told Le Parisien that the claims about a gold treasure were "nonsense".
So far little evidence has emerged that the Troadecs enjoyed a lavish lifestyle.
Nantes prosecutor Pierre Sennes told a press briefing earlier this week that Troadec, who worked at a commercial sign-making firm, and his wife Brigitte, a civil servant, had "good incomes" and were not in debt.
More body parts found
The sudden disappearance of Pascal's family on February 16 left France on tenterhooks as investigators scrambled for clues.
Detectives found traces of blood and efforts to clean them up throughout the two-storey house where Pascal and Brigitte, both 49, lived in a suburb of the western city of Nantes.
In his confession, Caouissin said he killed the couple, as well as their children Charlotte, 18, and Sebastien, 21, with a crowbar, then cut up the bodies, burning some of the parts in his oven and scattering others around his farm in Brittany.
On Thursday, investigators found more body parts at the 32-hectare (80-acre) farm, along with more jewellery and some computers taken from the Troadecs' home in Nantes, Sennes said.
Caouissin and Lydie Troadec were quizzed for nearly 21 hours at the start of the probe, when Caouissin told investigators he had fallen out with the family over the dispute.
But initial suspicions centred on Sebastien Troadec, who had a history of psychological problems.
The focus shifted after traces of Caouissin's DNA were found at the Troadecs' home in suburban Nantes and then in Sebastien's car, abandoned in the port of Saint-Nazaire about an hour's drive to the west.
Follow Emirates 24|7 on Google News.