Woman, 66, is fifth victim to die in Stockholm truck attack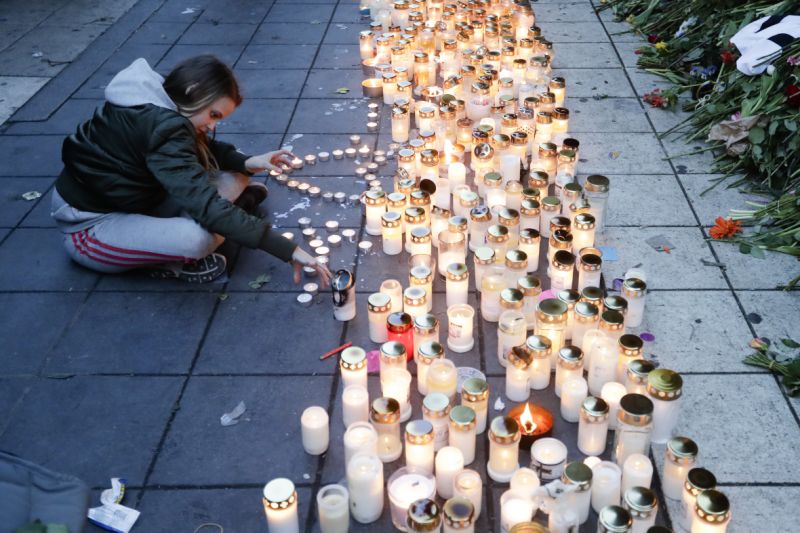 A woman in her 60s who was injured in the April 7 truck attack in Stockholm has died, Swedish authorities said Friday, raising the death toll to five.
A political party in Trollhattan, near Goteborg, identified the woman as Marie Kide, 66, an elected member of the city council.
"It is with sorrow that I have received the message that another person died," Prime Minister Stefan Lofven said.
"The aim of this kind of attack is to spread terror and hatred," Lofven told Sweden's news agency TT. "We will do everything in our power so people can be safe in Sweden."
A 39-year-old Uzbek man, Rakhmat Akilov, has pleaded guilty to a terrorist crime for ramming the truck into a crowd on a busy pedestrian shopping street in the Swedish capital. Police have not disclosed a motive for the attack and no extremist group has claimed responsibility for it.
Akilov's Swedish residency application was rejected last year but police said there was nothing to indicate he might plan an attack. After the rejection, Akilov had been been ordered to leave Sweden in December. Instead, he allegedly went underground, eluding authorities' attempts to track him down.
Akilov was caught in a northern suburb of Stockholm, hours after he drove the stolen beer truck into the crowd of afternoon shoppers outside the upmarket Ahlens store.
Others killed in the attack were an 11-year-old Swedish girl, a 31-year-old Belgian woman, a 69-year-old Swedish woman, and a 41-year-old Briton whom the British government identified as Chris Bevington. Fourteen other people were injured.
The attack shocked Sweden, known for its welcoming policy toward migrants and refugees.
In 2015, a record 163,000 asylum-seekers arrived in the country — the highest per-capita rate in Europe. The government responded by tightening border controls and curtailing some immigrant rights.
Follow Emirates 24|7 on Google News.