Woman found in pit says suspect said he loved her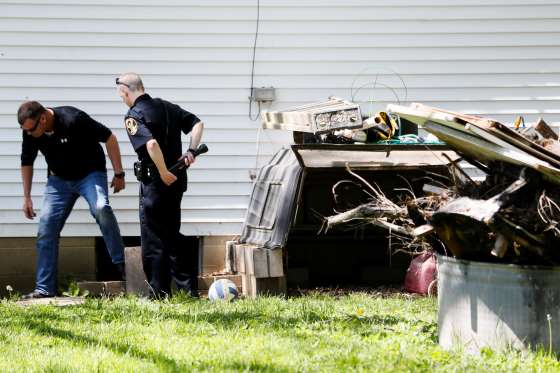 An Ohio woman who authorities found trapped in a small pit in a neighbor's shed testified in court Thursday that the man told her he loved her as he closed the shed door.
The woman testified at a hearing for Dennis Dunn in Clinton County Municipal Court. Dunn, 45, was arrested April 26 on a charge of kidnapping when police found the woman after someone reported hearing cries from the shed in Blanchester, about 40 miles (64 kilometers) northeast of Cincinnati.
Police have said she may have been trapped about four hours.
Dunn's lawyer, James Hartke, said Thursday that no plea has been entered, but that he does not believe Dunn is guilty of kidnapping. The judge sent the case to the county Common Pleas Court, and it's expected to go before a grand jury.
Hartke has said he believes Dunn suffers from an undiagnosed mental disorder. The judge did not rule on his request for a court-ordered psychological evaluation to determine if Dunn is competent to assist in his defense, Hartke said.
Police have said Dunn has a history of mental health issues.
The woman's mother initially reported her missing about 2 a.m. April 26. Police said the mother called them about two hours later to report hearing cries from the shed behind Dunn's house. An officer found the woman in the shed, crouching in a pit about 2 feet wide by 2 feet long and about 3 1/2 feet deep (0.6 meters wide by 0.6 meters long and 1 meter deep) with wood over the top of it.
The 30-year-old woman testified Thursday that she remembers stepping outside her home to smoke a cigarette, but doesn't remember exactly how she got into the shed.
"When he closed the shed door, he said, 'I love you.' I remember banging on the dirt and screaming," WCPO-TV in Cincinnati reported the woman testified.
The woman appeared to be having a seizure when police found her and was taken to a hospital, where she was treated and released, police said.
She says she has seizures and didn't take her medicine that morning.
"She also testified that Mr. Dunn never physically stopped her from leaving," Hartke said. "To me, that means that he did not kidnap her; might have been, potentially, unlawful restraint."
Police Chief Scott Reinbolt has said heavy objects, including lawn equipment, had been placed on the wood over the pit, preventing the woman from getting out.
A message seeking comment from the prosecutor wasn't immediately returned Thursday.
Police have said that the woman in October 2016 reported receiving harassing phone calls and text messages from Dunn, who she and her family had known for years. The woman declined to participate in any prosecution of Dunn at that time.
Follow Emirates 24|7 on Google News.