Woman raped and held captive for 5 years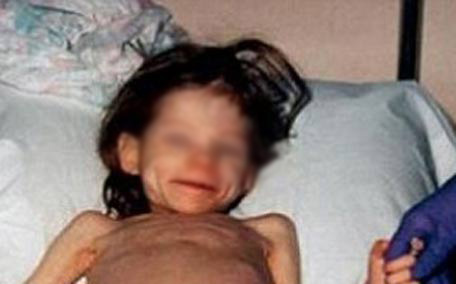 A woman from Athens, Texas, now 21 years old, shared her story of rape, torture, starvation and living in a closet for five years.
Lauren Kavanaugh was 3-years-old when her mother Barbara Atkinson and step-father Kenny Atkinson first locked her inside a 4-foot by 9-foot closet, Inquisitr reported.
Her mother was sick of her sobbing that that she grabbed her by her arm and told her to 'get into the closet.'
Lauren recalls her five year ordeal where she stayed in the confines of the wardrobe for hours under a rail of dresses and shirts. She was deprived of water and food, there was just darkness.
She was only let out of the closet for a couple of hours when she was raped and tortured. Lauren recalled being burnt with cigarettes and tortured when let out of the closet.
Her parents- the Atkinson's would put country music on blaring to hide her screams and after hours of abuse she would be bundled back into the closet, confused and in agony.
(YouTube)
It soon became her new home where all she did was sleep under a thin wet blanket and eat anything she found in the cupboard.
On a particular day, when she was 6, Lauren believed she was lucky to be served macaroni and cheese but her mum's strictly instructed her to chew on it but spit it out.
The carpet was drenched in urine as she would not be let out to use the washroom.
There were other children in the home who were not harmed in any way. She would hear them laughing and playing in the house as she huddled inside the filthy closet, hungry for food.
She is currently attending community college and studying to be a counsellor for abused children.
Lauren's dark days finally came to an end her mumn splurted out the "little secret to their nighbour who was horrified and immediately informed the cops.
Lauren was soon rescued and rushed to the hospital.
At the time of rescue she weighed as much as a 2-year old and was suffering from malnutrition. Lauren was potbellied and was rushed into emergency surgery, as her organs were shutting down.
Doctors used a feeding method which was developed to aid Holocaust victims, due to her little body being so starved. She was also fitted with a colostomy bag.
The Atkinson's were ultimately arrested on multiple felony injury to a child and are serving life.
They are not eligible for parole until 2031.
Adoption
Lauren Kavanaugh adopted by Sabrina and Bill Kavanaugh when she was a baby.
Eight months later her biological mother Barbara Atkinson decided to get Lauren back and petitioned the court for custody.
As the Kavanaugh lawyer did not complete the necessary paperwork, Lauren was sent back to live with her biological mother.
After her rescue, Bill and Sabrina Kavanaugh took Lauren back into their home and officially adopted her.
The five years of torture and rape had left a huge impact on her young mind.
Although her adopted parents were very loving, she would often hide food thinking that it would disappear and feared being drowned into the bath Lauren Kavanaugh battled depression, suicidal thoughts, and struggled at school.
She was later sent to an alternative educational centre after getting into a fight.
She recalls the school change a turning point because she began residential therapy and met other abuse survivors.
Follow Emirates 24|7 on Google News.