Wrongfully convicted man dies 10 years after prison release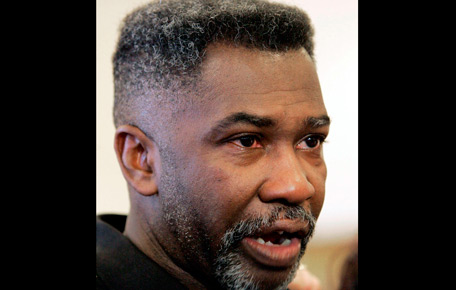 A Mississippi man who spent 16 years in prison for crimes he didn't commit has died after an extended illness, a decade after being released.
Levon Brooks died Wednesday at his home in Columbus, Mississippi. He was 58. His widow, Dinah Brooks, said he was diagnosed with colon cancer five years ago.
Brooks was convicted in 1992 and sentenced to life in prison for the 1990 rape and killing of Courtney Smith, the 3-year-old daughter of his former girlfriend. The conviction was partly based on testimony from Dr. Michael West, a forensic dentist who came under intense criticism for his testimony in criminal cases.
Brooks was released from prison in February 2008 after DNA evidence pointed to another man, who confessed. At an exoneration hearing the next month, the prosecutor apologized to Brooks.
"I can't give you your life back, but I want you to know I believed in what I was doing. For whatever part I played in your prosecution, I'm truly sorry," said Forrest Allgood, who was district attorney at the time.
Attorneys for the Innocence Project, based in New York, began looking into Brooks' case as they were challenging the conviction of Kennedy Brewer in a similar killing of another young girl in the same small community in Noxubee County, Mississippi. Because Brewer was on death row, he was entitled to attorneys and appeals. Brooks was not on death row and did not have the same right to post-conviction appeals.
"At some point, being locked away and isolated without any organization to turn to, he basically came to accept the cruel fate that life had inflicted upon him of a life sentence in prison," Vanessa Potkin, the Innocence Project attorney who took on Brooks' case, told The Associated Press on Thursday.
During Brooks' trial, West testified that bite marks on the victim's body were caused by Brooks. Mississippi pathologist Steven Hayne initially identified the bite marks during his autopsy of the girl, but defense attorneys in the case said the marks couldn't have been caused by human teeth because they occurred after the child had drowned in the creek where her body was discarded.
Potkin said DNA evidence gathered in the Brewer case pointed to another man who lived in Noxubee County and had been a suspect in the case in which Brooks was convicted. She said that man confessed to killing both girls, which helped clear Brooks and Brewer. Brewer was released on bail in 2007 and exonerated in 2008, after serving 13 years in prison.
Dinah Brooks said she and Levon Brooks met after he was released from prison, and they married in 2016. She said he was outgoing, loved to be around people and loved to hunt and fish. She said he read the Bible daily and was not bitter about his imprisonment.
"He didn't have any animosity," Dinah Brooks said. "He didn't have any hatred."
Potkin, the Innocence Project's director of post-conviction litigation, described Brooks as an intuitive, loving person. Speaking of his case, she said: "It also is a reminder there are many more innocent people in prison than we will ever know because they have given up because they are isolated because they don't have access to anyone to help them."
Follow Emirates 24|7 on Google News.