DHC to get power substation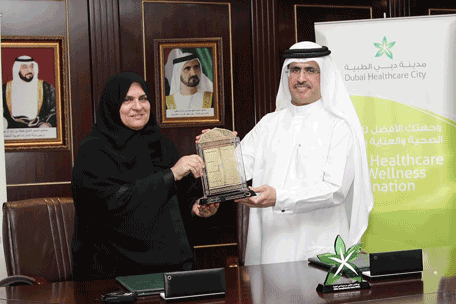 Dubai Electricity and Water Authority (Dewa) has signed a Memorandum of Understanding (MoU) with Dubai Healthcare City Authority (DHCA) whereby Dewa will build, manage and operate a 132/11 kV substation that support the expansion of Dubai Healthcare City, as part of its strategy to build close ties with other government departments in Dubai.
The agreement was signed at Dewa's headquarters by Saeed Mohammed Al Tayer, MD and CEO of Dewa, and Raja Al Gurg, Vice Chairperson of the Board of Directors at DHCA, in the presence of Marwan Abedin, Chief Executive Officer of DHCA, Dr. Wajdi Al Daghma, Chief Operating Officer, Dr. Amer Ahmad Sharif, Managing Director - Education and Ammar Hattab.
Hussein Lootah, Executive Vice President of Transmission Power, Dr. Yousef Al Akraf, Executive Vice President of Business Support and Human Resources, Waleed Salman, Executive Vice President of Strategy and Business Development, Abdul Al Nasser Abbas, Director of Treasury, Khawla Al Mehairi, Vice President of Marketing & Corporate Communications, Ahmed Abdullah, Senior Manager of External Communications and Arif Julfar, Media and Marketing Manager, also represented Dewa.
"The MoU supports our vision to be a sustainable world-class utility, and reflects our mission to drive social and economic development in Dubai by ensuring an uninterrupted and seamless supply of electricity and water, further defining Dubai as a leading business, finance, tourism and green economy hub," said Al Tayer.
"Dewa will build, manage and operate the power station to support Dubai Healthcare City's expansion. To be built at a cost of Dh85 million, the station is part of Dewa's ongoing efforts to raise the efficiency of networks to meet the growth in demand for its services. It also underlines our commitment to support the implementation of vital projects, especially in infrastructure development, to cope with the growth in demand, to the highest standards of efficiency and reliability," added Al Tayer.
"Dubai Healthcare City continuously supports successful government partnerships that enhance Dubai's position in the services sector, in line with the UAE Vision 2021 to enhance the standard of service offered to the public. This further demonstrates the importance of cooperation and coordination between different sectors of the UAE. The agreement will drive the second phase of Dubai Healthcare City to provide the best services for hospitals and medical centres, strengthening the quality of its services," said Al Gurg.
Follow Emirates 24|7 on Google News.