Dubai Customs wins CSR Golden Peacock Award for for 3rd year in a row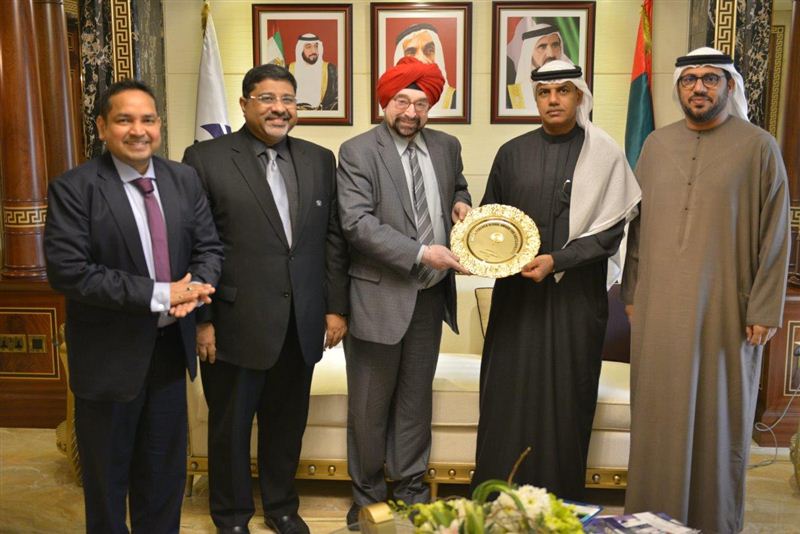 Dubai Customs won the international CSR Golden Peacock Award in its third cycle 2016 for the 3rd year in a row. This comes in recognition of Dubai Customs' distinctive efforts in supporting sustainability around the globe.
Ahmed Mahboob Musabih, Director of Dubai Customs received the award in his office from retired Lieutenant General J. S. Ahluwalia, President, Institute of Directors, India, and Manoj K Raut, Chief Executive Officer and Director at Institute of Directors in the presence of Khalil Saqer, Director of Corporate Communication Department at Dubai Customs.
On the occasion, Musabih congratulated Dubai Customs' staff for this international achievement.
"This is a result of our incessant and relentless efforts to support sustainability in corporate social responsibility, not only at a local level, but worldwide. We are always inspired and guided by the noble humanitarian vision of Their Highnesses, the UAE Leaders, and as an application to the social requirements of the UAE Vision 2021 and Dubai Plan 2021" Musabih said.
Dubai Customs has launched and participated in 1,176 social initiatives between 2009 and 2016 that benefited around 6 million people. These included awareness campaigns, charity drives, environmental campaigns and initiatives that targeted people pf special needs.
On his part, Khalil Saqr bin Gharib highlighted one of these social initiatives organized by Dubai Customs: "United for Wildlife", which aimed at protecting endangered animals worldwide.
J. S. Ahluwalia said that Dubai Customs is a leading government department that is committed to sustainability, and is the only customs administration in the world to adopt a CSR strategy.
Golden Peacock Awards, instituted by Institute of Directors, India in 1991, are now regarded as Holy Grail of corporate excellence worldwide. Today, Golden Peacock Awards Secretariat receives over 1,200 entries per year for various awards, from over 25 countries worldwide.
Follow Emirates 24|7 on Google News.