ADCB sees decline in 2008 profit, to issue Dh4bn bonds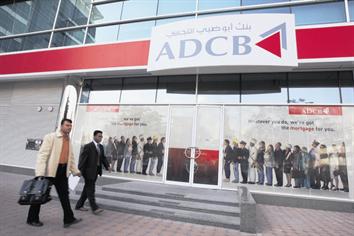 The Abu Commercial Bank (ADCB), one of the largest banks in the Middle East, yesterday reported a sharp decline in net profits for 2008 after taking a big chunk for provisions and suffering losses from its US investments.

The bank also announced plans to issue Dh4 billion bonds and said its CEO had resigned and was replaced by his deputy.

Net profits stood at around Dh1.36 billion in 2008, down from nearly Dh2.08bn in 2007, the bank said in a statement.

But it noted that total income increased by nearly 16 per cent to Dh4.42bn, while operating profits before provisions grew by 3.6 per cent and core income, excluding extraordinary items and before provisions, rose by seven per cent.

Total assets grew by 39 per cent with net loans and advances and customer deposits rising by 44 and 48 per cent respectively.

The report showed non interest income comprises 43 per cent of total income, up from 40 per cent in 2007 on the back of all round growth in fee, commissions FX and derivative income.

FX and derivative income of Dh410m doubled over the previous year, while core fee and commissions grew by 12 per cent.

"The net profit for the year of Dh1.36bn was conservatively arrived at and reflects increased general provisions in accordance with Central Bank's guidance to all banks to maintain prudence in the preparation of their 2008 financial statements," ADCB said in a statement after a morning board meeting.

"In line with this guidance, ADCB has included general provisions of around Dh1.296bn out of total provisions of Dh1.498bn. Of these provisions, loan provisions amount to Dh758m and investment provisions amount to nearly Dh740bn. The general provisions are expected to cover potential loan and investment impairments taking into account uncertainties arising from the economic environment," the statement added.

It said the bank's capital adequacy ratio remained at 11.6 per cent at year end.

But capital and reserves, including convertibles, jumped by 40 per cent to around Dh15.9bn over the previous year.

The balance sheet showed non-performing loans stood at Dh1.26bn at the end of 2008 or 1.13 per cent of total loans, an improvement over the 1.38 per cent level at the end of 2007 and the lowest ratio ever between non-performing loans and gross loans.

The statement said this improvement occurred despite the bank changing its NPL classification from 180 days past due to 90 days past due in line with Central Bank directives on Basel-II.

Total provisions, excluding collateral values, now stand at 158 per cent of NPLs compared with 109 per cent at the end of 2007.

Total collective provisions now constitute 0.96 per cent of total performing loans.

"The provisions included in the 2008 accounts are a prudent measure in line with the guidance issued by the Central Bank. Although these provisions reduce the bank's net profits for 2008, they should ensure that the bank remains stable during 2009 to withstand the turmoil continuing in the international markets. The core businesses of the bank continued to perform well in 2008," said Eissa Al Suwaidi, Chairman of ADCB.

According to the statement, the board recommended that the bank pay cash dividends equivalent to 10 per cent of its capital of Dh4.81bn.

The statement said the board also decided to issue Dh4bn bonds in response to what it called an initiative by the Abu Dhabi Government to inject additional capital into certain Abu Dhabi financial institutions.

"The bank will issue Tier 1 capital notes to the Government of Abu Dhabi, with a principal amount of Dh4bn," it said.

"The notes will bear interest at a rate of six per cent per annum payable semi-annually in arrear from [and including] the issue date for a period of five years, and thereafter at a floating rate, reset and payable semi-annually in arrear, reflecting the initial margin. The notes are non-voting, non-cumulative perpetual securities, and are callable subject to certain conditions."

ADCB also announced the resignation of Eirvin Knox as the bank's chief executive officer and his replacement by Ala'a Eraiqat, formerly the bank's deputy chief executive officer.

"The board expresses its gratitude to the departing CEO, particularly for the many accomplishments of the bank during his tenor. The board now gives its full support and backing to Eraiqat," Suweidi said.

Last year, ADCB said it would lead legal action in the United States to recover losses suffered by the bank and other GCC investors in a collapsing financial institution last year. It said it would act as plaintiff in the class legal action in New York to regain losses suffered from investments through the Cheyne structured investment vehicle. But ADCB did not specify its exact losses.
Follow Emirates 24|7 on Google News.