Ajman Bank eyes 6% of market share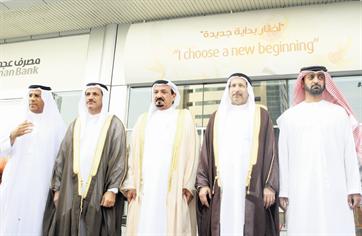 Ajman Bank has plans to control six per cent market share of UAE's Islamic banking and 50 per cent in Ajman over the next three years.

The bank officially inaugurated its banking operations in Ajman yesterday as Yousif Khalaf, the Chief Executive Officer of Ajman Bank, revealed an ambitious plan to expand its Islamic banking operations in the country within the next three years.

"We have plans to lead banking services in Ajman because the Ajman Government has a major stake in the bank. This will give us access to all financial services related to the government, including projects and employees. This situation will help the bank to expand its services in corporate and retail banking."

Khalaf said the bank would open another branch in Ajman later this month in addition to three branches in Abu Dhabi, Dubai and Sharjah during the first half of the year. "We also have plans to increase our branches network to nine by the end of 2009. We will open branches in the northern emirates, but there is no final decision until now."

He also stressed Ajman Bank started its operations after the global financial crisis that changed the core of the banking system around the world and this helped the management to introduce amendments on their strategy for the bank.

"We have a strong capital and we are entering the market at a critical stage. We have strong plans to compete with Islamic banks operating in the country through introducing innovative Islamic finance products.

"We plan to acquire a market share of six per cent of the total Islamic banking services in the country in the next three years, or two per cent of the total banking system," Khalaf said. He also said the bank would introduce personal finance services, including cars and real estate.

"We will focus on financing residential real estate investments. We will also finance commercial real estate, but we will be very selective in this area."

Ajman bank started its operations unofficially last month. However, Khalaf said the bank received unexpected flow of deposits last month despite there was no official announcement.

"This reflects a new trend among investors as they are searching for security rather than return at the current stage due to the financial crisis. We introduced a secure window for their investments because the bank has strong capital and liquidity."

"We believe that we have been fortunate to have opened at a time when the potential impact of investment decisions is clearer, gaps in the market are apparent and we can more effectively work to protect our current and future clients and shareholders from any negative risk. The events that unfolded in the international financial environment before we started operations afforded us the opportunity to test our strategies to better fit the new economic landscape."

Khalaf said the international and regional financial system was struggling to recover from past investment decisions and "we were able to build a strategy that avoided, to a greater extent, areas which have proven to be more unstable than previously thought".
Follow Emirates 24|7 on Google News.