Bank provisions may rise 40%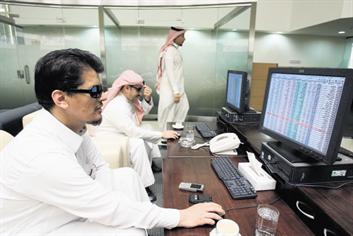 The 61 banks in the Gulf Co-operation Council (GCC) region are estimated to record $9.4 billion (Dh34.4bn) in provisions during 2009, a 40 per cent jump from 2008 and a fivefold increase from the modest level of $1.8bn for 2007, said a study released yesterday.

Kuwait Financial Centre (Markaz) said in its study that as a percentage to loans, this translates to nearly 1.5 per cent compared to 0.58 per cent seen between 2003 and 2007.

Within the GCC, the focus at the end of 2008 was on a myriad of things – the UAE real estate sector, the Kuwait investment sector and uncontrolled loss at stock markets across the board.

Banks made slight increases to provisions across the board in 2008, but pivotal in moving the overall GCC needle were provisions of more than $1bn from Gulf Bank of Kuwait and Bahrain's Arab Banking, more than $700 million from Kuwait Finance House and nearly $500m from Emirates NBD.

In 2008, the GCC-wide increase in provisions could be attributed to a handful of the largest GCC banks. But in the first nine months of 2009, figures show that provisions have increased almost without exception across GCC banks, not just the "big guys". GCC provisions for the nine months have already topped $6.41bn, or 1.06 per cent of loans.

Markaz analysts expect GCC provisions to end 2010 at $8.76bn, representing a seven per cent decline over full year 2009 estimated provisions of $9.4bn.

Concurrently, lending activity stagnated across the GCC in 2009, with growth rates falling well below historical averages, as banks have hoarded cash and been hesitant to extend financing in a tenuous economic environment.

GCC loans have amounted to roughly $606bn in nine months, a five per cent growth from the same period in 2008. Saudi Arabia has been the main drag on loans growth, growing just one per cent in Q3 2009 compared to Q3 2008, in stark contrast to the 25 per cent average growth in loans seen in the past five years.

Markaz sees GCC loans to show an overall growth of four per cent in 2009, a far cry from the historical average of 29 per cent between 2003 and 2008. This would bring the provision-to-loans ratio to 1.52 per cent in 2009 as compared to 1.13 per cent in 2008. "While we expect to see some recovery in lending in the GCC, we still expect Saudi Arabia and the UAE to be a drag on overall GCC loans growth. Hence, we have a forecasted 2010 loans growth of eight per cent for the GCC to $667bn," it said.
Keep up with the latest business news from the region with the Emirates Business 24|7 daily newsletter. To subscribe to the newsletter, please click here.
Follow Emirates 24|7 on Google News.