Bankers, politicians go head-to-head over reform plans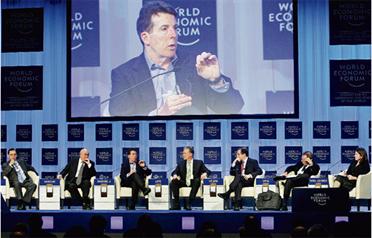 Bankers and political leaders took their battle over post-crisis regulation to the World Economic Forum which started in Davos yesterday.
Thirty presidents and prime ministers and 2,500 business and academic elite are at the 40th anniversary forum held in the glitzy Swiss ski resort, seeking ways to fend off new storm clouds hanging over the global economy.
While the International Monetary Fund (IMF) has predicted world growth will be stronger than expected in 2010, other warnings have been made about strong measures needed to save millions of jobs.
But the main focus will be on reform of the finance industry, with top bankers making a return to Davos to fight what they fear will be over-regulation.
President Nicolas Sarkozy of France was to plead the case for tough reforms in his keynote opening speech yesterday, officials said.
French Finance Minister Christine Lagarde said she hoped "the Davos rendezvous will be fruitful for speaking about financial regulation. That means everyone has to be around the table".
The heads of Bank of America and Citi group, Brian Moynihan and Vikram Pandit, are among global finance industry chiefs in Davos discussing the reforms, particularly measures proposed by US President Barack Obama to limit the size of big banks and make them pay back much of the money needed for their huge bailout last year.
The banking industry is arguing against what it considers stifling controls, while bank leaders are also on the defensive about bonuses.
Sixty per cent of chief executives are "extremely" or "somewhat" concerned by the threat of over-regulation, said a poll by PriceWaterHouseCoopers released in Davos.
The WEF said in a report that banks would have to rethink their business models and accept "a lower profit world" and review their salaries.
"A multitude of factors point to lower run-rate industry profitability in the near and medium term. Financial institutions will need to rethink their business and human capital models in order to adjust and differentiate as a result," warned the report.
Davos also started amid widespread fears of a slow recovery or even a double dip recession. The IMF on Tuesday projected global growth of 3.9 per cent in 2010, increasing its original estimate of 3.1 per cent, but said emerging economies, particularly in Asia, would lead the recovery.
Global production and trade bounced back in the second half of 2009 and "confidence rebounded strongly on both the financial and real fronts, as extraordinary policy support forestalled another Great Depression", the institution said.
International shock at the extent of the Haiti quake disaster has also been reflected with several last minute changes to the Davos programme so that rebuilding efforts can be discussed and new international appeals for help made.
Davos founder Klaus Schwab has insisted that Haiti be a priority topic at the event, despite the world's economic ills.
Among other leaders present at the anniversary event are presidents Luiz Inacio Lula da Silva of Brazil, Felipe Calderon of Mexico, Jacob Zuma of South Africa, Hamid Karzai of Afghanistan and prime ministers Morgan Tsvangirai of Zimbabwe and Stephen Harper of Canada.
Also attending is South Korea's President Lee Myung-Bak, whose country will lead the Group of 20 nations this year and host a summit on efforts to combat the economic crisis.
Keep up with the latest business news from the region with the Emirates Business 24|7 daily newsletter. To subscribe to the newsletter, please click here.
Follow Emirates 24|7 on Google News.