Banks asked to upgrade ATM cards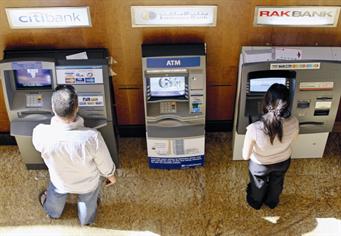 The UAE Central Bank yesterday asked banks operating in the country to upgrade their ATM cards by introducing new technology to prevent fraud.

The banks will be asked to introduce chip and PIN technology to replace the existing magnetic strip technology. This is in line with global industry trends intended to reduce the risk of debit and credit card fraud.

The introduction of such technology has proved to be extremely successful in other parts of the world in reducing card fraud, particularly in Europe, the Central Bank said.

The Central Bank said the new instructions followed the outcome of a review of ATM security conducted by an international consultancy company to determine whether the present cards are vulnerable.

The bank said it took the move on the grounds the security of transactions through the UAEswitch is of the highest importance to the Central Bank.

"The integrity of the system must be trusted by all participants. Customer card data must be protected against theft for fraudulent purposes," the Central Bank said in a statement.

"As a result, the Central Bank appointed a leading international firm of independent consultants to conduct a full review of security measures and carry out a detailed examination of the UAEswitch systems to determine if the UAEswitch was compromised by the latest card fraud. This exercise was completed in January and the conclusion of the exercise was negative – the UAEswitch was not compromised."

The statement said this prompted the Central Bank to decide on amending some of its protocols and introduce new ones as per the recommendations of the aforementioned specialised international firm and to adopt global Payment Card Industry standards at the UAEswitch.

The statement said the bank operates the UAEswitch service which links the ATM networks of all banks in the UAE. "This enables customers of banks to use any ATM in the UAE, the UAEswitch is also connected to the ATM switch services in other GCC countries, thereby enabling bank customers to carry out cash withdrawals on any ATM in the Gulf countries displaying the GCCnet logo."
Follow Emirates 24|7 on Google News.