CBQ Q4 net up 33% despite QR170m hit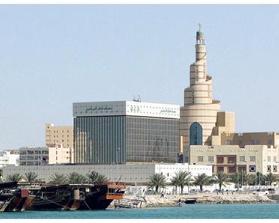 Commercial Bank of Qatar (CBQ) reported a 33 per cent rise in fourth quarter net profit, despite taking a QR170 million (Dh171.5m) hit related to a corporate default, which the lender intends to recover.

Qatar's third-largest bank by market value posted a net profit of QR186m in Q4 from QR140m in the same period in 2008.

The bank's earnings missed analysts' profit forecasts of QR333m.

Net profit for the full year amounted to QR1.5 billion, a decrease of 12 per cent from QR1.7bn of the year before, and the bank said it would propose a QR6 dividend per share, compared to QR7 in the previous year.

"The bank never faced as many challenges as it did over the past 12 months. We've taken provisions against both the lending portfolios and the investment book… in lending we've seen one large corporate failure of QR170m," Chief Executive Officer Andrew Stevens said by telephone from Doha.

Stevens declined to identify the company, but said it was based in Qatar.

The bank had warned that it would set aside QR50m against a corporate default and now raised that provision to QR170m. The bank will pursue the recovery of losses stemming from the QR170m default, Stevens said.

"We will exercise every available opportunity to recover that money. If that means through legal recourse we will take that, if it means taking assets we will do that. I remain optimistic that we will make the recovery at some point," he said.

Qatar's sovereign wealth fund took a five per cent stake in listed banks' capital in December, the second stage of a move announced in 2008 by the Qatar Investment Authority (QIA) to buy 10 to 20 per cent of listed banks' capital.

Stevens said the bank would continue to benefit from strong economic growth in Qatar in 2010. The cash-rich nation's economy grew 11 per cent in 2009, mainly due to its natural gas sector.

"Whilst we are optimistic about our prospects for 2010, I think we are also realistic. We see recovery in the bank's performance led primarily by existing strong domestic franchises and reflecting the forecasted growth in the local economy," Stevens said.

"The region is still poised to grow – we're quite bullish about that," he said.

Last November, the bank raised $1.6bn (Dh5.87bn) in bonds, and said it would use the funds to refinance debt and fund future expansion.
Keep up with the latest business news from the region with the Emirates Business 24|7 daily newsletter. To subscribe to the newsletter, please click here.
Follow Emirates 24|7 on Google News.