Citigroup, Morgan Stanley in talks on joint brokerage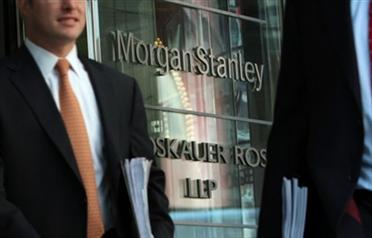 Troubled US banking giant Citigroup said Tuesday it is "in discussions" with Morgan Stanley on a potential tie-up of the brokerage operations of the two firms.
Citi confirmed reports that had been circulating since Friday on the talks that could combine its Smith Barney unit and the wealth management business operated by Morgan Stanley.
"No definitive agreement has been reached, and no assurance can be given that any such agreement will be reached," Citigroup said.
News of the talks had sparked fears that Citi, which has received a total of $45 billion in capital injections from the US Treasury to shore up its finances, was in deeper trouble than expected.
A joint venture of the two firms would create the world's biggest brokerage, according to news reports.
Citigroup shares slid another 6.4 per cent in early trade Tuesday to $5.24. The stock has fallen some 90 per cent in the past 18 months as the sector has been punished by the collapse of the US housing bubble.
Mace Blicksilver, analyst at Marblehead Asset Management, said on Monday that Smith Barney is "one of the crown jewels of Citibank," and added that news of the possible sale is seen as a sign "that things are getting very desperate at Citi".
Douglas McIntyre at 24/7 Wall Street said one of the reasons for the slump at Citi "may be a belief that the bank will write off another $10 billion for the most recent quarter."
Some analysts said rival bank JPMorgan Chase may have entered the talks either in a competing bid or in an effort to be part of the joint venture.
Any tie-up would likely need the blessing of the US government, which now owns some eight percent of Citi, which was once the world's biggest financial services firm.
Ed Yardeni at Yardeni Research said Citi would be "raising more capital by spinning off its brokerage business," adding that former chairman "Sandy Weill's financial supermarket may soon become a grocery store ... just a simple bank."
Follow Emirates 24|7 on Google News.