Crisis exposed vulnerability of small Saudi banks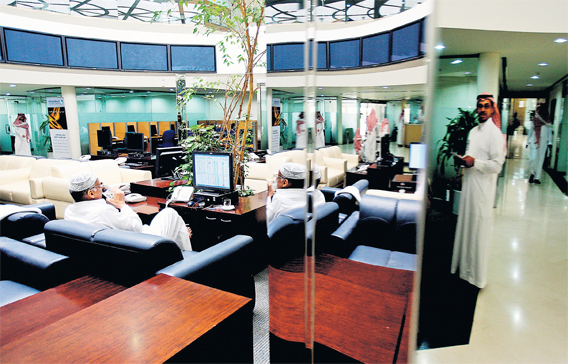 The global financial slowdown and the ensuing local debt default crisis have exposed the vulnerability of small and medium banks in Saudi Arabia as they have chopped off a large chunk of their funds for bad loan provisions, the Gulf Kingdom's largest bank said yesterday.
Detailed balance sheets issued by nine Saudi banks for 2009 showed the small and medium size units were more affected by provisioning, which was the main factor for the slight decline in the consolidated net income of the country's banking sector, National Commercial Bank (NCB) said. "The eleven locally incorporated banks in KSA, excluding Alinma bank, might have faced the financial crisis in a resilient mode, but the credit provisioning cycle in 2009 raised questions about what lies ahead for Saudi banking," NCB said in its weekly economic bulletin, sent to Emirates Business.
"In our opinion, a closer insight into non-performing loans (NPLs) and specific provisions that are allocated to such delinquent loans will help detect the major trends going forward. For the nine banks that issued their detailed full-2009 financial statements, the most affected were small- and medium-sized banks, notably Arab National Bank, Saudi Investment Bank (Saib), Al Bilad, and Saudi Hollandi Bank (SHB), reporting a staggering increase in their NPLs by 549 per cent, 506 per cent, 522 per cent and 110 per cent, respectively," NCB said.
The report said the major sources of trouble for each bank were notably manufacturing for SHB with a substantial nine-fold increase, services and manufacturing for ANB, commerce for Saib, and manufacturing for Bilad.
"As expected, this sudden surge in NPLs forced these banks to allocate more specific provisions that ranged between SHB's 127 per cent and Saib's 69 per cent increase. In contrast, NCB and Riyad Bank, two of the largest banks in Saudi Arabia, did report lower NPLs, at around -21 per cent and –1 per cent, and in turn reduced their allocations for specific provisions," NCB said. "The apparent aspect of such analysis does point to the relative weakness of smaller banks, and their vulnerable standing at times of stress. Yet, taking into consideration portfolio provisions, which represent additional allocations above the specific provisions, the overall standing of Saudi banks remains healthy, with the NPL coverage ratio at an acceptable 96 per cent."
Citing balance sheets, NCB said provisions by 11 Saudi banks, excluding NCB itself, totalled around SR6.7 billion (Dh6.6bn) by the end of the third quarter of 2009, an average of more than SR2bn every quarter.
It said the surge in provisioning indicated what it described as a strategic orientation to cover any expected or unexpected losses or impairments.
"The main difference between provisions in 2008 and 2009 is that investment provisions had given way to credit provisions that currently dominates the quarterly allocation of banks, reaching 100 per cent of total provisions in the third quarter. For the second consecutive quarter, only four banks reduced their credit provisions in the third quarter compared with eight in the first quarter," NCB said.
"Looking ahead, the operating environment for Saudi banks will pose challenges, especially that business volumes in the credit segment, brokerage, and trade finance are not expected to show an abrupt resurgence and the fact that interest rates and margins are expected to stabilise at current levels."
Citing initial balance sheets, the Saudi Arabic language daily Al Riyadh put total provisions of the Kingdom's banks at SR10.8bn during 2009, more than double the provisions made in 2008 of nearly SR5.3bn.
The largest increase was by SHB, with provisions rocketing to about SR1.248bn in 2009 from SR77 million in 2008, according to the paper.
The surge in provisions and a slowdown in lending following the crisis and default problems involving two Saudi family businesses stifled the performance of Saudi Arabia's banks last year although their net earnings were only slightly lower.
Annual balance sheets showed the collective net profits of the 11 Saudi listed banks, excluding NCB, shrank by around 8.6 per cent to SR22.22bn (Dh21.7bn) in 2009 largely on credit related provisions.
But with NCB's strong positive outcome, the Kingdom's banking sector's earnings plunge moderated to only 0.3 per cent down to SR26.3bn, said NCB. Saudi has the second largest banking sector in the Arab region after the UAE, with the combined assets of its 12 banks standing at SR1,370bn at the end of 2009.
Keep up with the latest business news from the region with the Emirates Business 24|7 daily newsletter. To subscribe to the newsletter, please click here.
Follow Emirates 24|7 on Google News.