Dawn of record-low Eurozone interest rates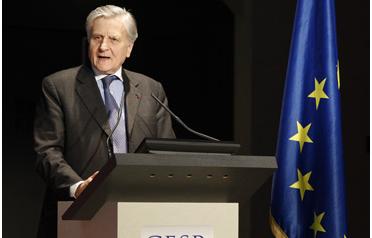 The ECB's main lending rate now stands at 2 per cent but that is almost sure to fall to 1.50 per cent before the ECB releases fresh growth and inflation forecasts by Eurozone central bank staff, which should also be revised lower.
"The ECB will surely decide a further rate cut leading to the main refi (refinancing) rate to 1.50 per cent, a historically low level" for the 10-year-old bloc, Natixis economist Cedric Thellier said.
December's growth estimate was deemed obsolete almost upon its release and the previous mid-point forecast of a 0.5 per cent contraction this year will certainly be cut sharply, possibly to minus 2.0 per cent.
In addition to an "obviously strong downward revision for GDP" (gross domestic product), Thellier said the previous 2009 inflation forecast of 1.4 per cent would be slashed in half to 0.7 per cent.
The Bank of England (BoE) is expected to cut its own interest rate from 1.0 per cent to 0.50 per cent in London, also a record low for the 315-year-old bank.
The US Federal Reserve and Bank of Japan's main rates are essentially zero.
But with influential ECB governor Axel Weber, who is also head of the German central bank, suggesting Eurozone rates will go no lower than 1 per cent, analysts wonder how the central bank can stimulate a recession-hit economy.
Eurozone GDP shrank 1.5 per cent in the last quarter of 2008 and it will slump further early this year, while inflation remains tame at 1.2 per cent, well below the ECB's target of just under 2 per cent.
The Fed and BoE have begun to buy commercial paper directly from businesses in one form of what is called quantitative easing – basically running money printing presses overtime – to underpin activity.
That option is less clear-cut for the ECB, which must operate in 16 separate countries, but bank president Jean-Claude Trichet should address the issue at a press conference following the rate decision.
"Highlights will surely be delivered by president Trichet about the ECB reflection, at least," Thellier said.
WHAT DO YOU THINK?  Will further rate cuts help European states tame the current financial climate? Have your say by posting a comment below, or emailing us at online@business24-7.ae.
Follow Emirates 24|7 on Google News.
The Eurozone is set for record low interest rates as the European Central Bank (ECB) meets on Thursday to coax 16 afflicted economies back to health, analysts say.