'ECB rates may breach 1.5%'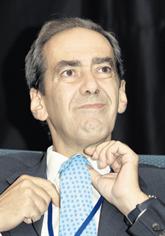 The European Central Bank could cut interest rates below 1.5 per cent, said ECB board member Jose Manuel Gonzalez-Paramo.

Noting that the ECB had cut rates to their lowest ever last Thursday, Gonzalez-Paramo told Spanish newspaper ABC that the board had not decided that this level represented a line in the sand. "Could they be lower still? We have not decided that these would be the lowest reachable. In the coming meetings we will see what the adequate level is to guarantee price stability in the medium term, in the context of a severe slowdown," he said.

Despite Thursday's 50 basis point reduction, euro zone rates remain above the Fed' zero-0.25 per cent fund rate and the 0.5 per cent set by the Bank of England.

Gonzalez-Paramo said national stimulus packages plus the positive effect on disposable incomes of falling oil and raw material prices, would help spark a slow recovery next year.

"We expect activity at a global level and in the euro zone will weaken in 2009 [and] to recover gradually in 2010," he said.

The Spaniard said the central bank was willing, and should play a greater role in financial regulation at a systemic level. He said the bank should be able to pass on its thinking to national regulators and have a greater role in the supervision of large, multinational lenders.

His comments follow a report by former a IMF director Jacques de Larosiere to reform banking supervision in the EU.
Follow Emirates 24|7 on Google News.