European banks brace for tough 2009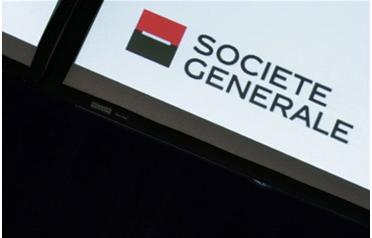 France's Societe Generale eked out a small profit for the fourth quarter, compared with a big year-ago loss when it was hit by a rogue trading scandal, while ING of the Netherlands and Germany's Commerzbank reported losses on Wednesday.
The three banks are among many lenders in Europe that have sought billions of euros of state help to rebuild balance sheets battered by the crisis.
Societe Generale said on Wednesday it has put expansion plans for Russia on ice and re-organised its corporate and investment banking activities while ING said Wednesday it would aim to preserve capital in 2009 and focus on fewer markets.
SocGen proposed a dividend of €1.2 (Dh5.55) per share – a third higher than last year. It said it entered 2009 with a solid capital position and unveiled a Tier-1 ratio of 8.8 per cent.
"The dividend was a bit above our estimates and the Tier 1 ratio still looks OK," said an analyst, who declined to be named. The French government had urged moderation in dividend payments in exchange for state loans to ease access to credit.
Commerzbank slid deeper into the red late in 2008 as  lending for commercial property projects and trading racked up heavy losses in its 'most difficult year ever'.
With the promise of another very difficult year ahead,  Germany's second-largest lender unveiled a bumper 2008 loss in its corporates and markets business of €1.7 billion ($2.2 billion; Dh8.1 billion) and a hike in the money it set aside for defaults on real estate loans.
Analysts at Keefe, Bruyette & Woods said in a note that it was hard to assess the health of the German bank's balance sheet but the loss was less pronounced than feared.
Societe Generale said it expects the market to remain challenging throughout 2009 as the French bank posted fourth-quarter profit that missed market expectations.
Net profit of €87 million was below analysts' average forecast of €122 million, but rebounded from a loss of €3.35 billion a year earlier when the bank was hit by a €4.9 billion trading loss blamed on rogue deals by Jerome Kerviel, a former SocGen junior trader.
Earlier this month, Swiss banks UBS and Credit Suisse posted fourth-quarter losses of 8 billion and 6 billion Swiss francs (Dh19 billion), respectively, while Britain's Lloyds Banking Group unveiled an £8.5 billion (Dh31 billion) loss at its HBOS unit.
Societe Generale shares were up 3 per cent at 0829 GMT on Wednesday, Commerzbank was up 4.6 per cent and ING was down 1.06 per cent compared with a 0.42 per cent rise in the DJ Stoxx banking index.
SocGen stock, which tumbled nearly 10 per cent on Tuesday, is still down 34 per cent in 2009, while the banking index has lost 21 per cent.
RUSSIA WRITE-DOWN
SocGen said it booked a €300 million goodwill impairment on its Russian operations, adding it would postpone its business plan for Russia. SocGen owns Russia's Rosbank.
ING posted a fourth-quarter loss of €3.7 billion due to writedowns and said it would focus on fewer businesses and markets.
ING Chairman and designated Chief Executive Jan Hommen told reporters that early indications for its banking business in the first quarter were "quite positive," but added: "To make a full forecast for the full quarter that is so depending on the volatility of markets I think that is very difficult to do."
Societe Generale's decision to put its expansion plans in Russia on hold is in line with recent warnings about a slowdown in once-booming emerging markets.
Two leading ratings agencies said on Tuesday the ratings of emerging European banks and their west European bank owners could suffer as recession bites, and the warnings caused a sell-off in European stocks and currencies.
The ratings agencies reminded investors of the crucial role a handful of Western banks has in keeping the former Communist bloc afloat after bankrolling its rampant growth in the boom years of 2005 to 2007. 
Follow Emirates 24|7 on Google News.
Three European banks said on Wednesday they were preparing for a tough year after taking body blows in the last quarter of 2008 from a credit crisis that has forced them to seek government help.