Exposure of Indian banks to Satyam under RBI scrutiny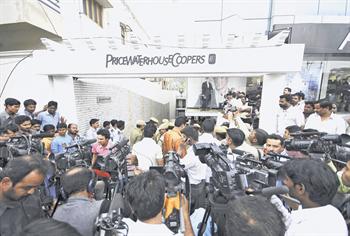 India's central bank is checking exposure of local banks to fraud-hit Satyam Computer Services as authorities widened investigations yesterday to limit the damage from India's biggest corporate scandal.

A new three-member board appointed by the government began its search for a new auditor for a company battling for survival after its chairman quit last week and confessed the firm's profits had been falsified for years.

The fraud scandal has whacked Indian stocks and the currency, as investors worried over the damage to foreign investment in Asia's third-largest economy and the once-booming outsourcing sector, a magnet for thousands of young job seekers.

However, bigger rival Infosys Technologies, which beat market forecasts yesterday with profit up one-third, said it has not been affected by Satyam's woes.

Satyam needs to restate accounts and appoint senior people as soon as possible to get back on track, the new board said late on Monday.

"The board members have come in, so the message is quite loud and clear that the government is serious about Satyam. But we have to give them time as they need to understand things first," said Amabreesh Baliga, Vice-President at Karvy Stock Broking.

Satyam, which specialises in business software, has seen its market value dive to about $430 million (Dh1.5bn) yesterday from more than $7bn just six months ago.

PricewaterhouseCoopers, the auditors of embattled Satyam, said there was no raid at its office in south India and said it was assisting agencies investigating the outsourcing firm.

"There is no raid at the Pricewaterhouse Hyderabad office. We are in discussion with different agencies for providing information requested by them," the audit firm said in a statement.

In an unprecedented move, the government dissolved Satyam's board last week, making use of special provisions in Indian company law, as it rushed to contain the fall-out from a scandal dubbed India's "Enron".

Satyam's 54-year-old founder and former chairman Ramalinga Raju and his brother, the firm's former chief executive, have been charged with criminal conspiracy and forgery. Both of them are being held in a Hyderabad jail, along with Chief Financial Officer Vadlamani Srinivas.

The Times of India quoted prison officers as saying the founder was spending time alone in jail, reading Buddhist books.

Raju came under close scrutiny last month after the company's botched attempt to buy two construction companies partly owned by its founders. The Reserve Bank has sought details of banks' exposures to firms run by the founding family of Satyam, including Maytas companies, with banking sources saying the focus was on property-related loans.

The State Bank of India said on Monday it had about Rs5bn (Dh38 million) exposure to Maytas firms, but nothing to Satyam. Second-ranked lender ICICI Bank said in a statement it was reviewing its exposure to Maytas - Satyam spelt backwards - without giving details.

As Satyam is one of India's biggest IT firms with a 53,000 workforce, the ruling Congress government can ill afford any high-profile company collapse in an election year. "Customers clearly understand it's a one-off event," Infosys Chief Financial Officer V Balakrishnan said.
Follow Emirates 24|7 on Google News.