Goldman CEO opposed to full nationalisation of banks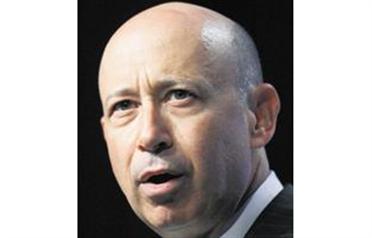 Goldman Sachs' chief executive said he opposed the full nationalisation of banks, but thought government stakes could be sensible in extreme situations.

"I don't think that nationalisation is a good solution. It is decisive that the financial system is being stabilised and governments have to act in a pragmatic manner," Lloyd Blankfein told German weekly Welt am Sonntag.

"In extreme situations, it can be meaningful when the government takes a stake. However, full control should be avoided," he added. Asked about the case of stricken German property lender Hypo Real Estate, which has already received €87 billion (Dh404bn or $110bn) in state guarantees, Blankfein said: "There can be extreme situations, where there is no alternative. Then the following must apply: If the tax-payer raises the whole capital of a company, it has to belong to him. Otherwise, the state is in danger of taking only risks, without having the opportunities."

Blankfein also commented on the cases of US bank Citigroup – in which the US Government will hike its stake to 36 per cent – as well as struggling carmaker General Motors.

Asked whether it would only be a matter of time until both companies would be fully nationalised, Blankfein said that, so far, both companies were still not completely state-owned.

"Secondly, the main point was to avert immediate threats. In the case of Citigroup, a real systemic risk for the financial markets had to be contained. In the case of General Motors, the social implications of a sudden breakdown would have been huge," he said.

Blankfein said that the company would remain committed to its business in Germany, adding that it is the "central economy in continental Europe and for us the bridge to eastern Europe".

He also pointed to uncertainty within the European Union with regard to state finances. "How much has to be raised by the single state and how much will be contributed by the European Union? Those questions are unanswered."
Follow Emirates 24|7 on Google News.