Goldman Sachs CEO confident UAE will ride out global crisis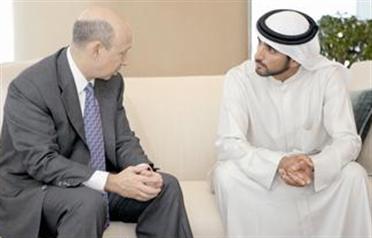 Dubai Crown Prince Sheikh Hamdan bin Mohammed bin Rashid Al Maktoum yesterday met Lloyd Blankfein, Chairman and CEO of Goldman Sachs. Also present was Dubai Deputy Ruler Sheikh Maktoum bin Mohammed bin Rashid Al Maktoum.

They reviewed world economic and financial changes as well as the role played by private financial establishments in co-operation with public sector institutions to build a joint base for a strategic partnership.

This will help pump new blood into the economy and world financial markets to help them rise anew.

Blankfein expressed confidence in the UAE economy and stock markets despite the pessimism prevailing in the global economy. He said Goldman Sachs wanted to expand its investment activities and operations in the UAE and other countries of the region.

Sheikh Hamdan and Blankfein also discussed the global financial crisis engulfing major markets of the world.

The meeting was also attended by DIFC Governor Dr Omar bin Sulaiman and Chief Executive of Goldman Sachs in Dubai and the Middle East, Wassim Younan.

Goldman Sachs Group has been operating out of the DIFC since 2006. The Dubai office is the group's regional centre for the Middle East. The firm has assets of around $180 billion (Dh660bn).
Follow Emirates 24|7 on Google News.