Lukewarm response to Iran bank's stake sale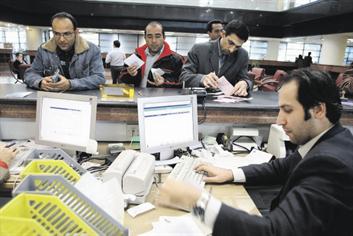 Private investors gave a lukewarm response to the sale yesterday of a five per cent stake in Iran's state-owned Bank Mellat, the first stage of a planned privatisation, news agencies reported.

"As per the plan, five per cent of Bank Mellat's shares were offered on the stock exchange," the state-owned Irna news agency quoted Tehran Stock Exchange director Ali Sahrai as saying.

The sale of shares in Bank Mellat, one of three Iranian banks under US sanctions, is the first phase of a planned 80 per cent divestment, the first privatisation of a state-owned bank in the Islamic republic. "We are monitoring the trade and there is not much demand for them," a director of the bourse, Ali Sanginian, told Mehr news agency.

Irna said around 340 million shares in the country's second largest bank – just over half the total on offer – had been sold at a price of around IRR1,050 (38 fils) each in the first few hours of trading. According to stock exchange regulations, at least 390 million shares have to be purchased in order to consider the stake sale "valid", the report said.

But the news agency said the stock exchange approved the deal after half of the offered equity was sold.

The Bank Mellat selloff comes at a time of steady decline in the Tehran stock market. The Tepix has sunk by 35 per cent over the past six months, trading at 8,390 points on Tuesday, compared to a peak last year of 12,918 in July.

On Tuesday, Mellat Chairman Ali Divandari said the bank planned to sell 80 per cent of its equity to private investors over the next two years, and that talks were under way with a number of European and Gulf banks.

Apart from the five per cent offered yesterday, the bank plans to sell another 15 per cent over the course of the first year, with the remaining 60 per cent to be sold in the second year.

The Mellat selloff is part of a privatisation drive ordered by supreme leader Ayatollah Ali Khamenei in 2006, which has made only sluggish progress since.

But economist Saeed Laylaz said the low response to Mellat's offer shows an overall "lack of trust in the offer and the economic prospects of the country. The sanctions and the country's diplomatic isolation should also be taken into consideration. Also privatisation should happen after the liberalisation of the economy which has not taken place in Iran".
Follow Emirates 24|7 on Google News.