Mena banks score on profit efficiency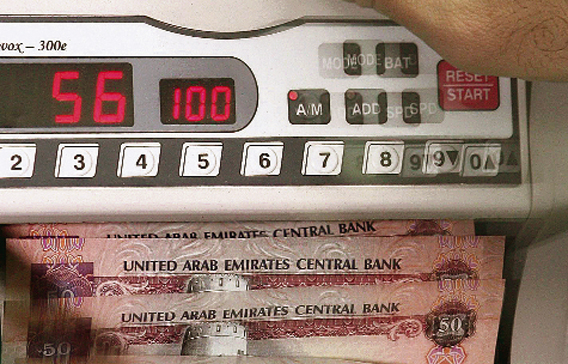 Banks in the Middle East and North Africa (Mena) score fairly well in terms of profit efficiency relative to all banks worldwide but should focus more on enhancing revenue generation rather than controlling costs, according to an expert.
"Mena banks are slightly less cost-efficient than European banks and in line with banks in developing economies," said Dr Dennis Olson, Professor of Finance at the American University of Sharjah (AUS), during a one-day research symposium on business and economics organised by the university.
He said mergers and consolidation of Mena banks were desirable as the average bank was smaller than the optimal size, and such moves should not be opposed by regulators as they would benefit the region.
He drew a comparison between the region's Islamic and conventional banks, saying: "Islamic banks are less cost efficient and more profitable than conventional banks, but their profit efficiency is slightly lower. The differences in profit efficiency can be attributed to lower cost efficiency.
"Islamic banks have been more successful than conventional banks in terms of revenue efficiency and accounting profitability, but both Islamic and conventional banks in the region need to become more profit efficient," said Olson.
"Banks in the Mena countries show less discrepancy between cost and profit efficiency than has been found in other countries.
"The implication is that even though inefficiencies exist on the revenue side, Mena banks are doing relatively well by global standards in generating profit from existing resources and the current operating environment," said Olson.
Dr Taisier Zoubi, Professor of Accounting at AUS, said economics-based measures – as opposed to accounting-based measures – could be more useful to bank managements if they focused on profit efficiency rather than cost efficiency. "The accounting variables associated with accounting profitability help to explain cost and profit efficiency, but cost efficiency has little impact on accounting profitability or profit efficiency.
"A sound, well functioning banking system is essential in providing for sustained growth and development in this politically and economically important part of the world."
Dr Zoubi said that using the distribution free approach (DFA) for separating inefficiency from random error, the average bank – relative to the best practice banks in the region – operates at a cost efficiency level lower than those of North American banks but in line with studies of the banking industry in many European countries and in developing economies.
From the accounting-based determinants of return on assets (ROA) and return on equity (ROE), many variables related to profitability were outside the control of the bank manager, such as whether a bank is traded, percentage government ownership, conventional versus Islamic, and inflation.
However, Dr Olson said banks that specialised in loans were more profitable, capital strength was positively related to ROA and general control of operating costs – as reflected by the inefficiency ratio – contributed to higher profitability.
Economics-based calculation of profit efficiency is closely related to the ROA and ROE accounting ratios. When including profit efficiency as a determinant of ROA, a final variable affecting ROA is size.
"That is, size is positively correlated with profitability, confirming the results from the economics-based estimates of returns to scale that the typical Mena bank would be more efficient and more profitable if were larger," said Olson.
Call for analysing sector in Mena countries
Dr Olson highlighted the need to study the efficiency of the banking sector in Mena.
"While the efficiency of the banking sectors in North America and Europe has been analysed rather thoroughly, less is known about the determinants of cost efficiency and bank profitability in developing countries," he said in a paper titled, "Efficiency and Bank Profitability in Mena Countries".
"There is an urgent need to study the banking sector in the Mena region as it is important for many reasons including that it represents a bridge between Europe and Asia. It is a fast growing region and its banking sector is relatively young with most banks only being established in the 1970s or later," he said.
Keep up with the latest business news from the region with the Emirates Business 24|7 daily newsletter. To subscribe to the newsletter, please click here.
Follow Emirates 24|7 on Google News.