NBK Q4 profit falls, CEO aims for steady 2009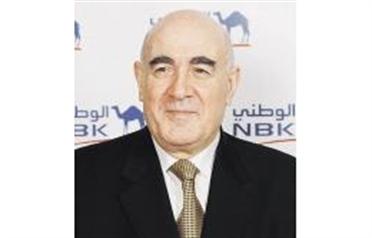 National Bank of Kuwait hopes to keep 2009 net profit steady, its chief executive said yesterday, despite a dive in fourth-quarter profit partly on provisions to offset the impact of the global financial crisis.

Shares in NBK, the country's biggest bank by assets, rose after the results, which were accompanied by a recommendation for a 45 per cent cash dividend and 10 per cent bonus share issue.

Fourth-quarter net profit fell 78 per cent to 11.6 million dinars (Dh148 million or $40.18m), according to Reuters calculations, against expectations from Global Investment House analysts in December of 65 million.

Full-year 2008 profit fell to 255.3 million dinars from 273.6 million in 2007, the bank said.

NBK took voluntary provisions of KWD45 million as a precaution, Chief Executive Ibrahim Dabdoub said. Without the provisions, net profit would have grown by 10 per cent in 2008.

Dabdoub said he hopes to keep 2009 net profit stable at last year's level but warned this year would be difficult because of the global crisis.

"To be realistic we... say hopefully we will be able to reach, this year, last year's figure," he said when asked to give a profit forecast for 2009.

The bank expects retail lending to rise this year and corporate lending to be flat, he added.

NBK will slow down foreign expansions but still plans to set up an Islamic lender in Switzerland, Dabdoub said.

"We will be slowing down our expansion unless we see a good acquisition opportunity," he said. "(Switzerland) has not been done. We are still waiting until we agree with our partners on a strategy."

NBK has been expanding abroad to offset rising competition at home by buying Al Watany Bank of Egypt and a 40 per cent stake of an unlisted Istanbul-based Turkish bank in 2007.

Dabdoub said the bank is still eyeing expansion opportunities in Syria and North Africa "but it takes time".

Both Egypt's Watany and Qatar's IBQ performed well last year, he said without giving details.

Operating income for the year rose 20 per cent to $1.84 billion last year, compared to 2007, NBK said in the statement.

Earnings per share in 2008 fell to 95 fils, compared with 112 fils a year earlier.


No credit for investment firms

Some Kuwaiti banks have stopped certain credit lines they had opened for a number of local investment and real estate companies facing liquidity shortages.

The banks stopped the credit lines without giving a prior notice to the companies with which they had signed agreements for these facilities before the start of the liquidity crisis, Al Watan daily reported.

This move is likely to negatively affect real estate companies in particular which need the funds to finance their projects.
Follow Emirates 24|7 on Google News.