Obama scolds Wall Street executives over bonuses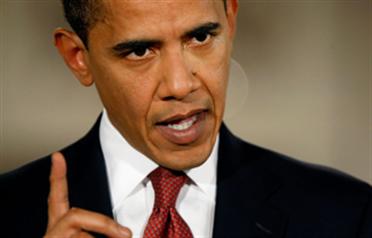 US President Barack Obama on Thursday chastised Wall Street executives for taking big bonuses at a time when the financial system is on the verge of collapse.
Obama, his vice president and chief spokesman all fired off statements voicing outrage after the New York comptroller reported $18.4 billion in 2008 bonus payouts at a time when taxpayers' money was shoring up a financial system in crisis. "That is the height of irresponsibility. It is shameful," Obama told reporters while meeting new Treasury Secretary Timothy Geithner and Vice President Joe Biden.
White House spokesman Robert Gibbs said: "We're not going to be able to do what is needed to be done to stabilize our financial situation if the American people read about this type of outrageous behavior." In office nine days, Obama said he and Geithner would send a message to Wall Street that "there will be time for them to make profits and there will be time for them to get bonuses. Now is not that time."
"GREED," BIDEN SAYS
Interviewed on CNBC, Biden said: "I mean, it just offends the sensibilities ... I do know what they're thinking. And they're thinking the same old thing that got us here - greed."
Obama, a Democrat, has been ratcheting up the pressure on Wall Street executives to behave more soberly since he succeeded Republican George W. Bush as president on January 20. It's a view that sits well with the U.S. electorate. Michael Holland, founder of Holland & Co in New York, who oversees more than $4 billion of assets, said: "The financial capital of the world has shifted to Washington."
Obama is now the head of the compensation committee for banks, and anyone on Wall Street who ignores the changed landscapes does so at their peril. Beneficiaries of bonuses have no standing in arguing for money now, and they have no natural supporters, other than their own families."
In a meeting with congressional leaders last Friday, Obama criticized companies receiving bailout money who had been "renovating bathrooms or offices." That was a reference to reports that former Merrill Lynch CEO John Thain had spent $1.2 million fixing up his office last year, including $35,115 on a commode and $1,405 for a trash bin.
BAILED-OUT BANKS
Thain subsequently wrote to Merrill employees that he planned to reimburse Bank of America Corp, which acquired Merrill and then ousted Thain. He called the spending "a mistake in the light of the world we live in today."
On Tuesday, Citigroup, canceled plans to buy a $50 million executive jet after a White House spokesman said Obama did not believe using private jets was "the best use of money" by companies receiving taxpayer assistance. Both Bank of America and Citigroup have been recipients of massive government bailouts.
Some Wall Street CEOs and government officials declined to attend this week's meeting of the World Economic Forum in Davos, partly out of concern they would be perceived to be living it up in the Swiss ski village. "Banking officials have to be concerned with appearances more than ever," Howard Rubenstein, president of public relations firm Rubenstein Associates Inc, said this week. "They should avoid anything that appears super fancy or super rich, or thumbing their noses at taxpayers during a time of austerity," he added.
Auto executives learned in November that lavish behavior was unacceptable in today's economic climate when they flew in private jets to Washington to plead for bailout money.
Follow Emirates 24|7 on Google News.