Pay limits for banks signing up to UK asset protection scheme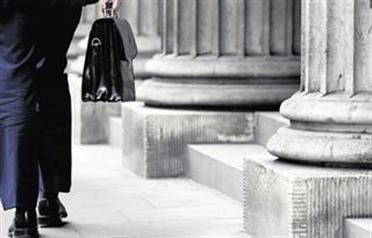 Banks in the United Kingdom will have to sign legally-binding commitments over pay structures if they want to sign up to the government's new asset protection scheme.

The move would be an attempt to crack down on the bonus culture in the City of London, which had led to accusations that bosses were "grossly overpaid".

The Sunday Telegraph newspaper quoted Treasury insiders as saying that a clause in the asset protection scheme should be interpreted as a sign that lenders will need to demonstrate that their bonus policies are designed to reward long-term value creation by the banking industry.

The clause said participation in the scheme will be subject to "a number of further conditions… including in relation to remuneration policy".

A spokeswoman for the Treasury would not comment directly on the article, but said: "We stated our intentions on Monday on asset protection. We are taking that forward. It is a matter of negotiations with banks on whether they take up that scheme."

The remuneration framework would be different to the one being considered by the Financial Services Authority (FSA), the City watchdog. The FSA is proposing a series of good-practice measures, including a higher fixed-income salary and remuneration in shares or deferred bonuses that are linked to the performance of the business.

Companies are expected to offer bonuses in the form of shares over cash, said analysts, and may base remuneration on profits, rather than revenue.

Prime Minister Gordon Brown has made it clear that banks need to set up a "system of remuneration founded on long-term success, not short-term irresponsibility" in return for the billions of pounds of taxpayers' money injected into the sector following its near collapse last October.

On Saturday, City Minister Paul Myners accused the bank bosses of being grossly overpaid.

"I have met more masters of the universe than I would like to, people who were grossly over-rewarded and did not recognise that. Some of that is pretty unpalatable," he said.

"They are people who have no sense of the broader society around them. There is quite a lot of annoyance and much of that is justified."
Follow Emirates 24|7 on Google News.