Provisions by UAE banks to rise in 2009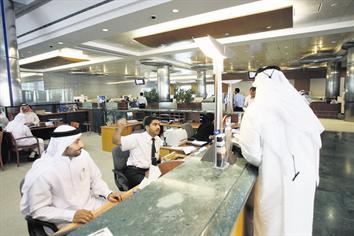 Specific provisions of the UAE banks are estimated to increase to Dh34 billion in 2009, an increase of Dh14.3bn from 2008 levels, while non-performing loans (NPLs) could go up to 2.9 per cent of the banks' overall loans, analysts told Emirates Business.

Moreover, analysts maintained that banks in the UAE are likely to add another Dh10bn in specific provisions in 2010, raising the level to almost Dh45 billion.

These increases are attributed primarily to the challenging global economic environment and weakened real estate sector. "Weakness in asset quality, the slump in the real estate sector and other factors would result in an increase in provisions. We estimate specific provisions to increase to Dh34 billion in 2009," said Deepak Tolani, Senior Vice-President, Equity Research, Al Mal Capital.

A recent report by Kuwait Financial Centre (Markaz) said 61 Gulf banks would see a 40 per cent jump in provisioning compared to 2008.

Analysts further maintain that the sector will continue to face challenges in 2010 and could see an increase in the level of provisioning. "We believe that banking assets will deteriorate further in Q4 [2009] and 2010, reflective in the NPL ratio, which is expected to peak by the first half of this year or by the end of Q3 2010 before sliding slowly. Provisioning requirements will run high, in some cases higher than in 2009, depending on the type of exposures some banks have," said Naveed Ahmed, Senior Financial Analyst, Research Group, Gulf Finance House.

Tough economic environment saw increased provisioning by UAE banks in the first three quarters and the same is expected to continue, analysts said.

"We expect provisions to be higher due to deteriorating asset quality we have been witnessing. It is mainly the economic environment that would drive provisions up this year for UAE banks," said Janany Vamadeva, Financial Analyst, HC Securities.

"We expect NPLs to rise to 3.5 per cent this year," added Tolani.
HC Securities, on the other hand, estimated NPLs to increase up to around 3 per cent.

"However when the NPLs [might] peak is hard to say because a lot of factors are involved. In case of provisioning, if the Central Bank changes the requirement, the impact would be visible this year only," added Vamadeva.

According to analysts, the timing of the restructuring of Dubai World and the individual accounting treatment of the same by the banks will be an important factor, which will determine the magnitude of asset quality erosion.

"Any cuts agreed upon by the banks, which are quite likely, will surely reflect on the provisioning/write-offs. Furthermore we believe that retail loans have yet to show the actual slide in quality," said Ahmed.
Keep up with the latest business news from the region with the Emirates Business 24|7 daily newsletter. To subscribe to the newsletter, please click here.
Follow Emirates 24|7 on Google News.