RAK Bank profit climbs 14.2% on revenue surge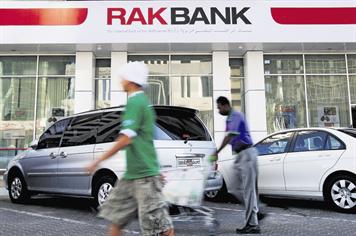 National Bank of Ras Al-Khaimah (RAK Bank) net profit jumped 14.2 per cent to Dh726 million in 2009 from Dh636m a year earlier after an increase in revenues, said a statement yesterday.

Revenue rose 27 per cent to Dh1.72 billion. The bank did not provide fourth-quarter earnings numbers.

"The operating environment in 2009 was probably the most difficult the bank has ever faced," said Graham Honeybill, General Manager.

"Liquidity issues which materialised at the end of 2008 continued into the early part of 2009 and there was a significant increase in delinquencies in the retail segment. Despite these considerable challenges, the bank continued to seek good business in line with its strategy and the results reflect the success of this effort."

The net interest income increased 37 per cent to Dh1.23bn. Loans and advances stood at Dh13.43bn, an increase of 23 per cent over 2008. With the growth in business increases were seen in other operating income which at Dh495m was up eight per cent on the previous year.

Its capital adequacy ratio stood at 14.2 per cent composed entirely of Tier 1 capital against the current minimum of 11 per cent Tier 1 capital prescribed by the Central Bank of the UAE.

Total assets were Dh17.1bn, a 23 per cent increase from end-2008.

Growth in assets was mainly due to increases in loans and advances in the retail segment in line with the bank's strategy.

The bank's investment portfolio stood at Dh398.33m at the end of 2009 against Dh645.07m at the end of last year. The decline was due to the maturity of investments. The bank has indicated that it intends to hold all bond investments to maturity with no loss expected on any of its investments.

Growth in the bank's asset book has been supported by a combination of increases in customer deposits and shareholders equity.

Customer deposits increased by Dh3.2bn over the 12-month period due to a combination of term and transaction deposits. During the year, a Dh360m tranche of the medium-term note programme matured and the bank took advantage of favourable prices to redeem a further $59m of this programme which at the end of the year stood at $291m.

The bank's share capital increased to Dh962m from Dh740m. Total shareholders equity increased to Dh2.797bn.
Keep up with the latest business news from the region with the Emirates Business 24|7 daily newsletter. To subscribe to the newsletter, please click here.
Follow Emirates 24|7 on Google News.