RAK Bank's loan to deposit ratio at 92%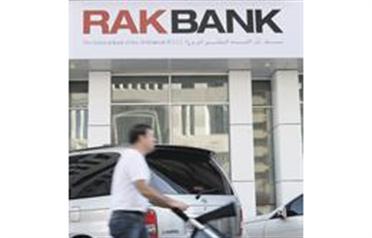 Despite the economic slowdown, the National Bank of Ras Al Khaimah (RAK Bank) has in 2008 recorded the best performance in the bank's history, top officials revealed.

In addition, the bank – which saw its net profit jump by 65 per cent to Dh480million for the first nine months of 2008 – has kept its advance (loan) to deposit ratio at 92 per cent, well within the Central Bank's guideline of one is to one.

"We can't give you the figures because they are still being audited but last year we have recorded the best year in the bank's history," Graham Honeybill, RAK Bank General Manager told Emirates Business.

According to David Martin, RAK Bank business advisor, the bank has registered a 32 per cent increase in retail customers from 250,000 in 2007 to 330,000 in 2008 as well as beefed up their workforce to 2,500 and automated teller machines to 74. Its loan portfolio has ballooned to Dh11bn, up 37 per cent from Dh8bn in the previous year, while deposits went up to Dh8bn from Dh5bn.

"We lend 92 per cent of our available deposits within the central bank guidelines, that is one to one or 100 per cent. Some banks as reported in the papers are as high as 148 per cent," Martin said.

Central bank figures show that UAE banks lend Dh260bn in first nine months of 2008, the highest ever recorded in recent history as it surpassed the credits of about Dh181bn provided by the banks during all of 2007.

Bankers said the surge was caused by strong demand for loans in the first nine months of 2008 as a result of a sharp rise in oil prices, high growth in the domestic economy and an upsurge in construction and other sectors.

Lending activity is expected to have slowed down in the last quarter of 2008 due to tight liquidity. Meanwhile, RAK Bank also launched its "Business as Usual" campaign to inform the customers the lender is still offering a wide range of loans.

"There is liquidity shortage – it's a common knowledge," Honeybill said. "What happens in many cases is that the liquidity issue has become critical and banks are rationing lending. We have taken a view that this is our business. We can't just stop lending. We will continue to lend."

However, Honeybill agreed there was indeed a slowdown in lending. "The central bank has a one-to-one policy, that is one deposit to one dirham lend. You have to stay within that. Yes we have slowed down, the whole market has slowed down but we haven't stopped," he said.

And just like other banks, Martin said RAK Bank is also chasing deposits. "We have increased deposit rates depending on the size of the deposit," he said. "Deposit rates vary between five and 7.5 per cent per annum depending on the size and the length or tenor of the deposit."

Liquidity, he said, is the only factor that restricts the bank for lending more. "We could lend at RAK Bank three times more per month than what we are currently lending if we have enough deposits," Martin said.

And although a number of analysts are convinced that a flood of redundancies will inevitably lead to a sharp rise in defaults, Honeybill said the bank is confident that it will fare well thanks to the quality of its assets.

"If you are going to look at economic downturn you are going to get more. The question is what is the quality of your portfolio," he said.

Honeybill added debt collection have also been "very good", Martin said: "Our loans loss provisions in 2008 were less than one per cent of aggregate of our total loan portfolio, which is excellent in these times. In this region, the average is between one and three per cent."
Follow Emirates 24|7 on Google News.