Saudi Arabian banks may cut their foreign assets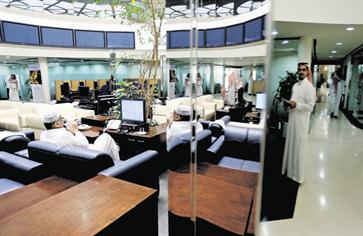 The global financial turmoil could force Saudi Arabia's banks to slash their foreign assets and channel them back into the Gulf Kingdom, a former Saudi Finance Ministry official said yesterday.

Abdullah Al Quwaiz said such a move would deprive the banks from good income but added that the loss could be offset by growing investment opportunities in Saudi Arabia due to lower lending by foreign banks.

Quoted by Saudi newspapers, Quwaiz said Saudi banks would be more affected by the global economic crisis than other sectors in the Kingdom.

"The changes resulting from the global crisis will force Saudi banks to invest their funds locally in the next period and this will deprive them from return invested in banks abroad," said Quwaiz, former Saudi finance ministry undersecretary.

"As you know, Saudi banks have invested part of their surplus funds in foreign banks abroad, but the position of these foreign banks in the current circumstances is not encouraging for Saudi banks to pursue that policy…this means Saudi banks will try to keep those funds inside the Kingdom and this will open up new opportunities for these banks to invest their funds locally."

Figures by the Saudi Arabia Monetary Agency (Sama, the central bank) showed there were no indications yet that the banks in the world's oil superpower are cutting their foreign assets as there was a slight increase in the second half of 2008.

From around SR153 billion (Dh151.5bn) at the end of June 2008, the combined foreign assets of Saudi Arabia's banks grew to nearly SR161.6bn at the end of November, according to Sama.

Funds due from banks abroad swelled from SR32.3bn to around SR36.8bn in the same period. But investments abroad fell from SR76.1bn to SR71.1bn.

Sama's bulletin for November showed there was an increase in funds due from branches abroad and in other assets.

In contrast, foreign liabilities plunged from around SR134.5bn to SR121.8bn in the same period. The decline in foreign liabilities sharply widened Saudi banks' net foreign assets, which crashed to only SR45m at the end of September before rebounding to SR39.7bn at the end of November.

"Global banks have become unable to finance projects after the collapse of many of them…this could adversely affect the timely implementation of projects in Saudi Arabia. But the positive thing is that this will produce investment opportunities for Saudi banks," said Quwaiz, who was also GCC assistant secretary general for economic affairs and headed the Abu Dhabi-based Arab Monetary Fund (AMF) during the 1990s.

While stressing the Kingdom's strong financial position because of massive petrodollar surpluses over the past few years, Quwaiz said most of its sectors had been affected by the crisis and banks suffered most.

"The impact of the crisis on the Kingdom's banking sector would be bigger than on other economic sectors… this is because this sector has been dealing with banks and companies that have gone bankrupt or are on the way to bankruptcy… according to reliable information, the assets of Saudi banks abroad exceed those inside the Kingdom," he said.

Balance sheets released by Saudi banks last week showed the sector had already been affected by the crisis as their net profits retreated by more than 12 per cent in 2008, one of their largest declines in many years. They showed the combined net profits of Saudi Arabia's 12 commercial banks stood at around SR26.3bn in 2008, down by 12.8 per cent from the 2007 earnings of SR30.2bn.
Follow Emirates 24|7 on Google News.