Saudi banks cautious about resuming lending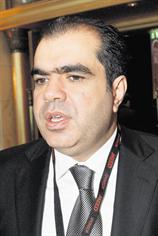 Saudi banks are hesitant to re-open their credit taps although the Gulf kingdom approved a record budget for 2009 and foreign funding is drying up, said the deputy head of a major Saudi contracting company yesterday.

Ali Kolaghassi, Vice President of Saudi Oger, said King Abdullah's approval of the country's highest expenditure for this year saved local companies from a sharp downturn but urged monetary authorities to lift curbs on bank borrowing.

In an interview with Emirates Business, Kolaghassi said Saudi Arabia's 12 commercial banks have sufficient liquidity but noted that they remain reluctant to resume their hectic lending activity that characterised most of 2008.

"I don't think there is a major liquidity problem in Saudi Arabia but it is a confidence problem… Banks are reluctant to resume strong lending activity for some reasons, including fears from the global financial crisis," said Kolaghassi, whose company is one of the largest contracting firms in the Middle East.

"I think they should not be worried because their lending activity will remain confined mostly to the local market… In this regard, I would like to note that there is a need for Saudi monetary authorities to ease curbs on the banks to allow them to give more loans… One of the main obstacles is the reserve requirement, which is largely hampering the banks' ability to extend credits."

The Saudi Arabian Monetary Authority (Sama), the kingdom's central bank, introduced curbs on local banks through 2008 in a bid to stem soaring liquidity and tackle inflation caused by the overheated economy. The situation was reversed by the aggravation of the global crisis in the last quarter, when crude prices collapsed by over $100 and markets were jolted by credit crunch.

During the course of the year until November 2008, Sama had raised the reserve requirements for current accounts four times to 13 per cent and for the first time lifted the reserve requirements for time and savings deposits to four per cent from two per cent. The decisions require banks to lift their statutory reserves with Sama while the latest two moves meant those reserves should be increased by around SR16 billion (Dh15.7bn). Despite easing of those curbs before the end of 2008, bankers believe they remain restrictive in the current situation.

"Apart from that, I think 2009 will be an extension of 2008 in terms of activity for contractors and other companies… I am not saying it will be the same but I don't think there will be a sharp downturn… The approval of this large budget has actually saved the situation," said Kolaghassi, whose company is fully owned by the family of late Lebanese Prime Minister Rafiq Al Hariri.

"To be honest, this budget has largely restored confidence to the market and sent a strong message to the private sector that the government is committed to the market and domestic development… We in Oger have largely benefited from this situation as we have won contracts worth more than SR10bn this year."

Kolaghassi said the main feature of the Saudi budget was the record capital spending, mainly allocations for health, education and other infrastructure projects. He said this would create massive business opportunities for the Saudi private sector despite the sharp fall in crude prices.

Official figures showed allocations to infrastructure, industry, water and agriculture were increased by 24.2 per cent to SR35.4bn. Capital expenditure for new projects and additions to existing ones totalled SR225bn, up by 36 per cent from SR165bn in 2008, reaffirming the government's intention to go with its investment programme.
Follow Emirates 24|7 on Google News.