Saudi banks expected to revive lending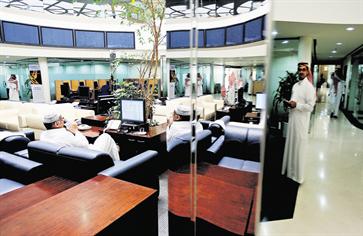 Saudi Arabia's banks are expected to ease their new tough lending policy and gradually reopen credit taps this year to take advantage of a massive project potential of more than $600 billion (Dh2.2 trillion), its largest bank said yesterday.
National Commercial Bank (NCB) said the 12 commercial banks in the major oil exporter appear to be hesitant to resume normal lending operations following the first decline in credit in nearly seven years because of the global fiscal crisis and domestic debt default problems.
A study sent to Emirates Business noted that banks controlled sufficient funds to finance massive infrastructure projects, citing a surge in their net foreign assets and deposits with the Saudi Arabian Monetary Agency (Sama), the kingdom's central bank.
"After the first decline in lending activities since at least 2002, Saudi banks will have enough resources to deploy in 2010. The answer is clearly a 'yes', given that capacity utilisation had receded in 2009, with loans to deposits ratio falling from 87 per cent in 2008 to 77.6 per cent in 2009," NCB said.
"This capacity manifested itself in the substantial increase in net foreign assets and excess deposits with Sama, amounting to about $29bn and $26bn in 2009, respectively. Therefore, it is not the capacity question that matters, but the willingness to extend credit to existing credit holders and finance new clients," it said.
NCB noted that monetary easing measures by Sama following the global credit squeeze and slowdown in the Saudi economy were expected to spur lending last year, with the central bank opting for a further cut in benchmark reverse repo rate from 0.5 per cent to 0.25 per cent in June 2009. However, banks continued to amass reserves despite the lower return on funds at Sama.
"On the demand side, project financing deals are plenty, which generates ample opportunities for banks if they mobilise funds," it said. Figures showed an estimated $622.2bn of projects planned and underway in the kingdom by the end of January, with a relatively meagre $52.4bn in on-hold projects, would need conventional credit.
The report said major project financing deals for Jubail and Yanbu refining and petrochemical projects were likely to provide initial signs of recovery in lending in 2010, with an expected tranche for Saudi banks worth $3bn.
"After assessing the supply and demand sides, banks still have fire power, but from their credit provisioning cycle, especially in the fourth quarter of 2009, they were in a transition phase of reassessing their portfolios in 2009," it said.
In a recent study, another key Saudi bank expected lending by local banks to remain tight in early 2010 but they could ease credit curbs in the second half. The Saudi American Bank (Samba) noted that despite Sama's monetary easing policy, growth in credits to the private sector weakened in the past few months to just one per cent following a partial recovery in August.
"The uptick in private sector credit growth noted for August, proved to be something of a false dawn, and growth softened again in the following two months, recording a new low of one per cent for the 12 months to October. Deposit growth has also trended down, but was still firm at 12 per cent in October, private sector credit growth was at a double-digit rate as recently as April, but has been on a sharp downward path," it said.
"Looking ahead, we expect this caution to remain in place at least until the second half of 2010. There is no sign yet of foreign banks returning in great numbers to the Saudi corporate debt scene. International lenders await resolution of the Saudi debt situation.
"For these reasons we think lending growth will remain flat at least for the next six months, before beginning to firm in the second half of 2010. Lending will be considerably stronger if the long-awaited mortgage law is finally passed, though this is not built into our assumptions," it said.
Keep up with the latest business news from the region with the Emirates Business 24|7 daily newsletter. To subscribe to the newsletter, please click here.
Follow Emirates 24|7 on Google News.