Saudi banks' net foreign assets surged by SAR39bn in November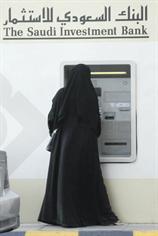 Saudi Arabia's banks boosted net foreign assets by at least SAR39 billion (Dh38.6bn) at the end of November apparently after a slowdown in foreign currency (FX) borrowing, official figures showed yesterday.

The surge followed a sharp rise in foreign assets and a steep decline in foreign liabilities, mainly in funds due to foreign banks, showed the figures by the Saudi Arabian Monetary Agency (Sama), the Gulf country's central bank.

From only SAR45 million at the end of September, the net foreign assets of the Kingdom's commercial banks soared to SAR38.4bn at the end of October and around SAR39.7bn at the end of November.

The figures showed foreign liabilities plunged from SAR142.1bn at the end of September to SAR121.8bn at the end of November. The bulk of the decline was in funds due to foreign banks, diving from nearly SAR77.9bn to SAR53.8bn.

In contrast, the banks' foreign assets soared from SAR142.1bn to SAR161bn in the same period. The increase was mainly a result of growth in funds due from banks abroad to around SAR36.8bn from SAR27.2bn.

Funds due from branches abroad increased from SAR29.9bn to SR33.6bn while the banks' investments abroad swelled from around SR67bn to SR71.1 billion (Dh70.3 billion).

"The decline in foreign liabilities, hence in net foreign assets, appears to be a result of slower FX borrowing by Saudi banks because of the credit crunch and slackening demand for credit in the Kingdom," a Saudi banker said.

In a recent report, Saudi Arabia's largest bank warned against excessive FX borrowing by the Kingdom's banks to meet strong domestic demand, which has started to slow down because of the global economic crisis.

The National Commercial Bank (NCB) said FX over-borrowing by Saudi banks has sharply depressed the Kingdom's net foreign assets to near zero while demand for credits remain relatively high to meet funding needs for domestic projects, worth nearly $610bn.

"This decline in September reflects the willingness of banks to borrow in order to finance an overheating economy in the country. With projects planned or underway approaching the $610bn mark, imports of capital goods surging by 48.2 per cent per cent Y/Y in 2008, and the total value of letters of credit opened growing by 49.9 per cent in the first nine months of this year, the demand for foreign currency merits a closer look," the report said.

It said the strain on local banks to meet such growing demand for foreign currency financing was clearly revealed by a sharp reduction of nearly 99.9 per cent in net foreign assets at the end of September.

"Obviously, domestic banks are tapping into every source of FX financing, given the sizeable FX component in most of the corporate-driven private credit growth, which is still running high at 33.8 per cent Y/Y in September," it said. "However, domestic banks must be careful not to widen their maturity mismatch structures since their revenue base is not dollar derived, and especially that the current status of credit markets cannot guarantee neither the availability nor the refinancing to long-term FX loans."

Like in other Gulf oil producers, Saudi banks have been locked in a massive lending drive to quench the thirst of local borrowers before the current global financial crisis reversed that position and pushed the world into a severe credit crunch. This has prompted monetary authorities in Saudi Arabia and its neighbours to take measures to support the banks' liquidity position.

Sama's figures showed credit demand has remained very high in Saudi Arabia, with the total loans extended by the banks jumping from SAR594bn at the end of 2007 to SAR739bn at the end of September and around SAR754.5bn at the end of November.
Follow Emirates 24|7 on Google News.