StanChart's cross-border exposure at $15bn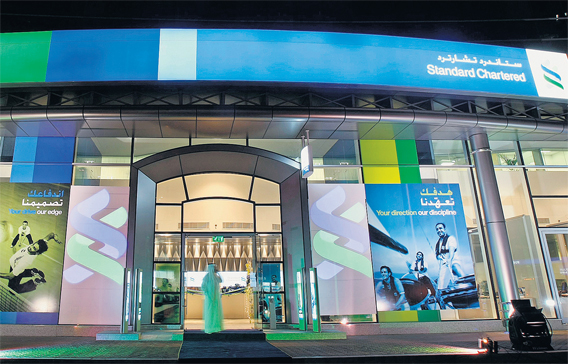 The UAE operations witnessed one of the steepest growths in cross-border exposure of Standard Chartered Bank.
The exposure in this risk category soared by about 40 per cent, from $10.535 billion (Dh38.6bn) to $14.878bn during 2009.
By definition, cross-border risk is what the bank will be unable to obtain payment from the customers or third parties on their contractual obligations as a result or certain actions taken by foreign governments, chiefly relating to convertibility and transferability of foreign currency. The wholesale banking income in Middle East and South Asia (Mesa) was up $442 million, or 46 per cent to $1.4bn driven by increases in both client and own account income.
The bank said, in the UAE consumer banking income was flat year-on-year and impacted by a reduction of the high-yield personal loan portfolio in light of economic stress and tighter underwriting criteria.
While the bank's global operations generated a total profit-before-tax (PBT) of $5.151bn for 2009, the Mesa region's contribution was to the tune of $366m against $652m in the previous year. The main reason for the drop in Mesa profit is the large provisions allocated against the impairment losses on loans and advances in the region. While this provision for 2008 was at $185m, it has soared to $811m for 2009.
In the consumer banking, the region's loan impairment was higher at $285m, 60 per cent up on 2008. This was predominantly in the UAE where loan impairment more than doubled as unemployment increased, according to the bank.
"This resulted in higher delinquency on unsecured lending and some stress in the mortgage book. Mesa delivered an operating loss of $2m, compared to an operating profit of $112m in 2008 in the consumer banking segment," it added.
According to the bank, Pakistan's operations were affected by political and economic uncertainty which impacted business sentiment. Mesa operating expenses in wholesale banking were up $85m, or 21 per cent, to $496m driven by staff and investment expenditure. The region's working profit in this segment was up $357m, or 65 per cent, to $904m.
Loan impairment was up by $519m over 2008.
Shayne Nelson, Regional CEO, Standard Chartered Mena, said: "Standard Chartered has seen strong revenue growth across the Middle East. Despite the global economic slowdown, we have remained open for business for our customers and continued to support them. We are seeing signs of improving macroeconomic data across our markets. We will continue to perform a critical role supporting investment and trade growth within its emerging markets footprint, providing specialist financial tools."
Standard Chartered profit jumps 13%
Standard Chartered met expectations with a 13 per cent jump in 2009 profit, as strong investment banking growth in its core Asian markets offset a jump in bad debts in the Middle East. The bank's pretax profit rose to $5.15 billion from $4.6bn, just ahead of an a forecast for $5.1bn.
Bad debt jumped by half on the year to $2bn, largely due to a rise in losses in the Middle East. Analysts had expected impairments to hit about $2.1bn. The bank said loan losses had reduced in the second half of the year. Wholesale banking continued to drive growth, with 2009 profit of $4.1bn, up over a third from 2008.
The consumer arm has fared less well due to the economic slowdown, rise in bad debts and as its business in South Korea has struggled. Its profit fell a fifth to $867m. It plans to trade its stock in India by selling Indian Depository Receipts in the second quarter of this year and will raise $500m to $750m.
Provisions for bad debts rose 51 per cent to $2bn, the bank said.
It said 2010 had started "very strongly" and was ahead of a year ago. (Agencies)
Keep up with the latest business news from the region with the Emirates Business 24|7 daily newsletter. To subscribe to the newsletter, please click here.
Follow Emirates 24|7 on Google News.