UAE Central Bank sets July 31 deadline for new cheque norms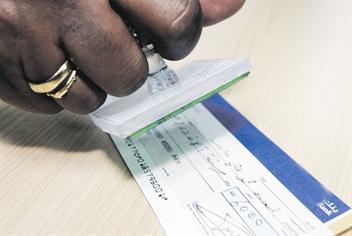 In line with the UAE Central Bank's requirements of security features on dirham cheques, banks in the country have begun asking their customers to mention "PDC deposit" clearly in case of post-dated cheques, Emirates Business has learnt. Failure to meet these requirements may result in rejection of such cheques.

"Our customers are fully aware of this and they have until July 31 to comply. We have sent them communiqués on this requirement," Saif Al Shehhi, Senior General Manager, Domestic Banking Division, National Bank of Abu Dhabi (NBAD), told Emirates Business.

According to Ashok Gupta, Chief Executive for GCC Operations, Bank of Baroda: "The new system will ensure that no cheque is forged or tampered with. This will help the country achieve a safe and secure financial services industry."

The minimum cheque security features require the banks to ensure that new cheques are thermo chromic, chemical-sensitive, solvent-sensitive and bear security ink features. The new features, which ensure paper security as well as protection against counterfeiting, are mandatory for all types of cheques including demand drafts, pay orders and managers cheques.

The new cheque books being issued by banks already bear the new security features, confirmed bankers. "We are issuing new cheque books with security features as required by the Central Bank," Al Shehhi added.

The Central Bank introduced a set of guidelines on security that led to UAE banks switching to a more water-tight security regime with 14 features. According to a bank communiqué: "In case of any AED PDC issued prior to December 1, 2009, being deposited with us, you are requested to clearly evidence the word 'PDC deposit' on the deposit slip."

The bank added that in accordance with Central Bank orders, it would be "required to reject any PDCs which do not comply with these requirements". The PDCs already collected by the banks until December 31, 2009, can be presented for clearing on their respective due dates by indicating "P" to the issuing banks, Mashreq highlighted on its website.

From the beginning of this year, banks have stopped accepting post-dated cheques that do not bear the required security features. In case of retail and corporate customers who may have already collected cheques that do not comply with cheque security features prior to this deadline, collecting banks will accept such deposits and process them "as usual in ICCS till July 31 this year."
Keep up with the latest business news from the region with the Emirates Business 24|7 daily newsletter. To subscribe to the newsletter, please click here.
Follow Emirates 24|7 on Google News.